Nigerian equities index up 2.5% with N350bn weekly gain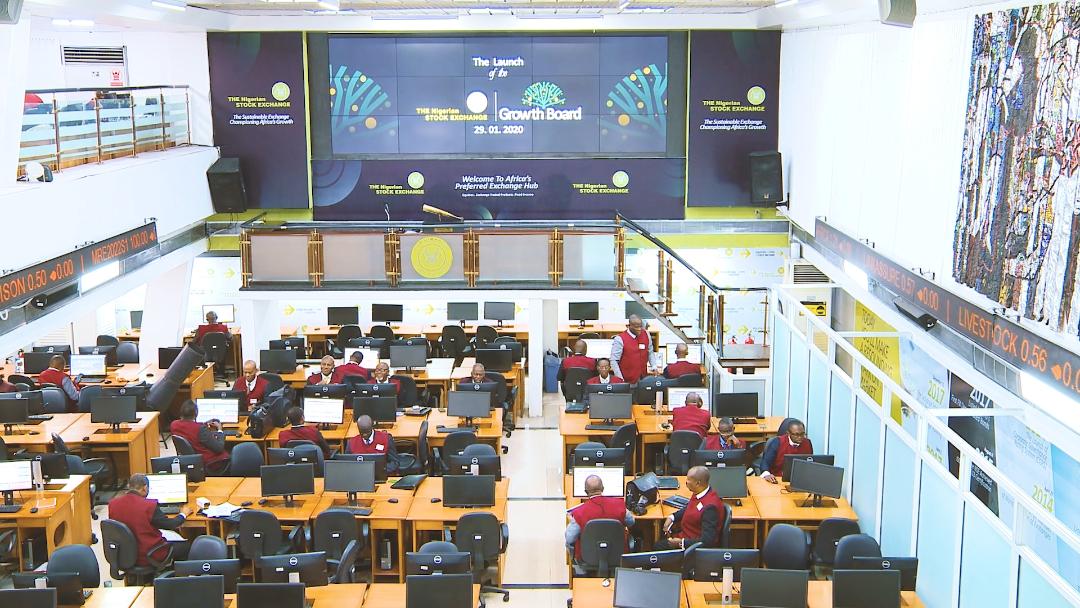 The bulls continued to dominate in the equities market as the NSE All-Share Index erased its year-to-date losses on Friday, following investors' rejuvenated risk-on attitude amidst declining real returns across fixed-income assets. 
Notably, investors' interest in large caps MTN Nigeria (+4.8 per cent), BUACEMENT (+8.3 per cent), DANGCEM (+3.6 per cent), and GUARANTY (+7.4 per cent) drove the benchmark index 2.5 per cent higher week-on-week (WoW).
Consequently, the Nigerian Stock Exchange (NSE) All-Share Index (ASI) edged up with additional 666.43 points to close at to 26,982.60 points, therefore retracing its steps to the green territory as it shook off negative posture to stand at settle 0.5 per cent.
Proportionally, the valuation of the equities segment of the Nigerian bourse yielded N350 billion to the delight of investors to close higher at N14.105 trillion.
In terms of sectoral performance, the banking index topped the gainers' chart as it advanced by 4.2 per cent, followed by the industrial goods, oil and gas and insurance indices with 3.2 per cent, 1.8 per cent 0.6 per cent upticks respectively.
On the contrary, the consumer goods index closed on the negative side of the bar with -0.7 per cent decline as the only declining sector at the end of the weekly session, following profit-taking in the shares of Nigerian Breweries that led to -6.8 per cent plunge.
Meanwhile, trading statistics obtained from the Exchange shows decline in market momentum as traded volume and value ended lower than the previous week with -.2.23 per cent and 17.79 per cent respectively.
Commenting on the development, analysts at Cordros Capital expressed conditional optimism that the market might continue to benefit as domestic investors seek alpha-yielding opportunities in the face of increasingly negative real returns in the fixed income market.
"However, we advise investors to trade in only fundamentally justified stocks as the weak macro environment remains a significant headwind for listed companies," the counseled.
It is noteworthy also that the Nigerian Stock market opened for four trading days during the week as the Federal Government of Nigeria declared Thursday, 1st October 2020, a Public Holiday to mark the Nations 60th Independence Anniversary.
During the week, investors traded a total turnover of 1.532 billion shares worth N16.901 billion in 17,882 deals, in contrast to a total of 1.567 billion shares valued at N20.559 billion that exchanged hands the previous week in 18,396 deals.
The Financial Services industry, measured by volume, led the activity chart with 1.292 billion shares valued at N10.562 billion traded in 10,046 deals; thus contributing 84.29 per cent and 62.49 per cent to the total equity turnover volume and value respectively.
The conglomerates industry followed with 62.395 million shares worth N89.205 million in 453 deals while the third place was the Industrial Goods industry, with a turnover of 55.168 million shares worth N2.976 billion in 1,752 deals.
Also in terms of volume, trading in the top three equities namely, Zenith Bank Plc, Sterling Bank Plc and United Bank for Africa Plc, accounted for 815.646 million shares worth N7.311 billion in 4,461 deals, contributing 53.22 per cent and 43.26 per cent to the total equity turnover volume and value respectively.
Aside equities, investors also bet on exchange traded products (ETPs) by trading a total of 192,781 units of the asset valued at N1.597 billion in 24 deals compared with a 119,603 units valued at N1.228 million transacted in 16 deals the previous week.
The week also witnessed transaction of 103,480 units of bonds estimated at N123.507 million traded in 24 deals compared with a total of 467 units valued at N564.073.49 that exchanged hands in five deals during the preceding week.