Trafficking: Lebanese embassy suspends issuance of working visas to Nigerian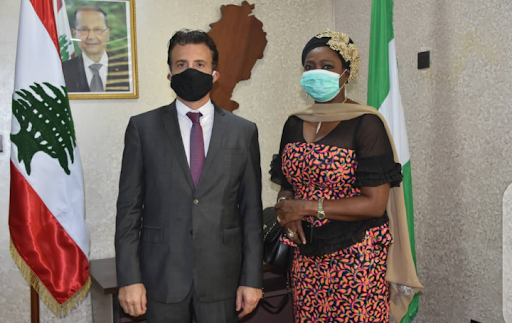 …Collaborates with NiDCOM to return stranded Nigerians
---
There is no more issuance of working visas to Nigerians from Lebanese government, at least not at the moment.
The Lebanese Government disclosed this Thursday, saying it had suspended issuing working visas to Nigerians seeking to work in Lebanon, particularly for domestic work.
Amb. Houssam Diab, Lebanese Ambassador to Nigeria,   made this known to Abike Dabiri-Erewa, Chairman/CEO of Nigerians in Diaspora Commission (NIDCOM) Abike Dabiri-Erewa as the latter paid him a courtesy call in his office in Abuja.
Amb. Diab stated that the suspension started since May 1,  as a result of complaints of abuse by some employers, as well as the case of the video of Peace Busari, a Nigerian lady, auctioned for sale for $1000 on Social media in April this year, went viral.
Meanwhile, NiDCOM has  collaborated with the Lebanese Embassy in Nigeria to return the remaining 10 stranded Nigerians back home.
She said that 69 Nigerians were returned successfully on May 25 with the help of the embassy and the Lebanese community in Nigeria who paid for their tickets and quarantine.
"First is that the evacuation of the Nigerians stranded in Lebanon was paid for by the Lebanese embassy and also the quarantine was paid by them so we thank them for that.
"Also 10 Nigerians were left behind and the ambassador had explained that nine had cases of theft and one had case of murder and they are undergoing judicial process.
"But he had assured us that whatever the allegation against them they will speed up the process to finish the judicial intervention and they will return,'' she said.
Dabiri-Erewa explained that the two bodies are also working on the area of maltreatment of some Nigerians working in Lebanon.
"I am so glad with the major decision taken by Lebanese government which is to stop visas for workers until we have proper agencies that will be documented with the Ministry of Labour.
"So that if you are going to work you will work with proper terms and conditions. So we are now talking about how to manage migration which will be done legally.
"Interested persons can work in Lebanon legally without the fear of being maltreated,'' she said.