Rising interests in fixed income assets spell doom for equities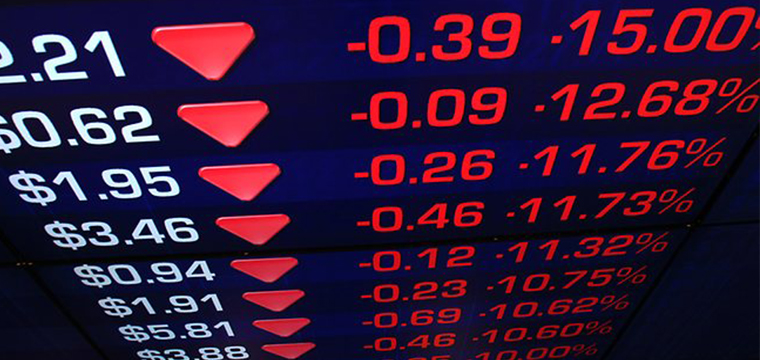 Rising interests in fixed income assets spell doom for equities
---
Rising rate of fixed income assets yields is casting a shadow of doom on local equities market in Nigeria and this teamed up with profit-taking strengthen bear's grip of the market last week.
Through the five trading days of the week, investors were busy offloading some stocks to seek improved yield in the fixed income market and divert funds also into the cryptocurrency market, according to experts.
Consequently the NSE All-Share Index (ASI) and market capitalization depreciated by 1.66 per cent to close the week at 41,709.09 basis points and N21.819 trillion respectively.
This is equivalent to N368 billion losses the market capitalization and 703.57 points depreciation on the bench mark index that measures share price movement at the Nigerian Stock Exchange (NSE).
Consequently, the year-to-date return (YtD) return moderated to 3.6 per cent. Activity levels were however strong, as trading volumes rose by 7.4 per cent week-on-week (WoW) while value traded rose by 6.4 per cent during the week compared with the preceding week.
Notably, sell offs in WAPCO (-11.2 per cent), ZENITH (-4.4 per cent), NESTLE (-3.7 per cent) and DANGCEM (-2.5 per cent) drove the weekly loss as sectoral performance was broadly negative to see all sectors close in the red.
The Insurance index shed -6.0 per cent to lead the losers chart followed by Consumer Goods, banking, industrial goods and the oil & gas indices falling by -3.2 per cent, -2.3 per cent, -2.1 per cent and -0.2 per cent respectively.
Reacting to the weekly decline recorded on equities, investment analysts at Cordros Capital held that with the moderation in the prices of bellwether stocks during the week, "we expect savvy investors to take advantage of this and make re-entry ahead of their FY 2020 earnings announcement.
"However, we note that the recent hike in OMO rates by the CBN will continue to stoke uncertainties on the direction of yields, keeping risk-averse investors on the side-lines."
They further hinted investors to expect a zig-zag market performance in the week ahead.
"Notwithstanding, we advise investors to take positions in only fundamentally justified stocks as the unimpressive macro story remains a significant headwind for corporate earnings."
Weekly trading data
During the week under review, a total turnover of 2.767 billion shares worth N29.685 billion in 31,380 deals were traded on the floor of the Exchange, in contrast to a total of 2.570 billion shares valued at N27.884 billion that exchanged hands previously in 31,466 deals.
In terms of traded volume, the financial services industry led the activity chart with 1.924 billion shares valued at N20.344 billion traded in 15,160 deals; thus contributing 69.54 per cent and 68.53 per cent to the total equity turnover volume and value respectively.
The conglomerates industry followed with 264.795 million shares worth N523.521 million in 1,528 deals, while the third place was consumer goods industry, with a turnover of 197.407 million shares worth N3.366 billion in 6,240 deals.
Trading in the top three equities namely Union Bank of Nigeria Plc, First Bank Holding Plc and Transnational Corporation of Nigeria (measured by volume) accounted for 859.867 million shares worth N4.250 billion in 2,459 deals, contributing 31.08 per cent and 14.32 per cent to the total equity turnover volume and value respectively.
Investors traded a total of 238,451 units of Exchange Traded Funds (ETFs) valued at N1.799 billion in 38 deals compared with a total of 262,345 units valued at N2.279 billion transacted the previous week in 61 deals.
Similarly, a total of 8,002 units of bond assets valued at N9.171 million were traded exchanged hands in seven deals compared with a total of 20,510 units valued at N22.187 million transacted previously in 17 deals.