Lagos Fuel Stations Shut Down Over Speculation of Petrol Pump Price Hike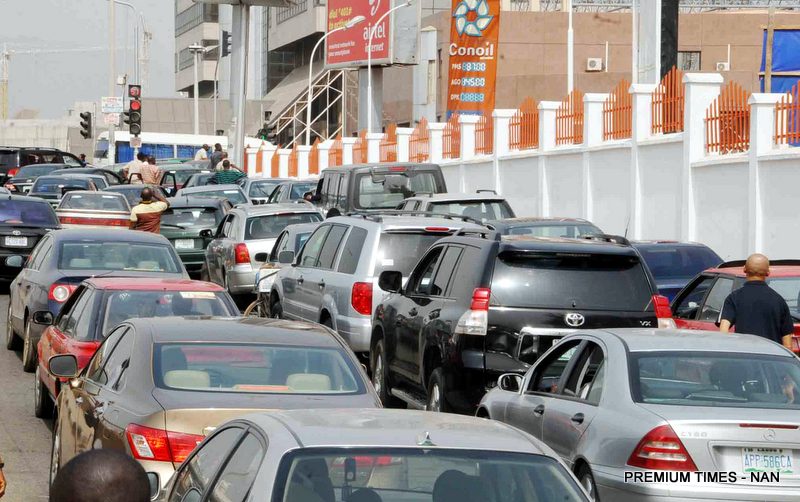 Major and independent petroleum product marketers in Lagos State have shut down their dispensing outlets over speculation of possible hike in pump price of Premium Motor Spirit (PMS), commonly called petrol.
Our correspondent reports that most filling stations have shut down while few in operation recorded unprecedented long vehicular queues.
TotalEnergies outlet by Abule (Sheraton Hotel Ikeja) and MRS at Ikeja, which opened for business earlier in the morning, later shut down at about 9am.
National President of Independent Petroleum Marketers Association of Nigeria (IPMAN), Elder Chinedu Okoronkwo, on Monday, said nothing has changed so far but it was the Nigerian National Petroleum Company Limited (NNPCL) that would be in a better position to make pronouncement as it stands now.
He referred our Correspondent to Depot operators, who are the right people to determine the landing cost of the product.
It was gathered from credible sources that petrol pump price is likely to climb up to N750 per litre.
Also, transporters, who spoke to our Correspondent on Monday morning, complained that they could not access the product as many stations in the state have shut operations.
It became general knowledge last week that marketers were contemplating declining further importation of petrol.
Our Correspondent was informed by industry sources that a rise in the exchange rate has made the business unprofitable.
Only last month, the Nigerian Midstream and Downstream Petroleum Regulatory Authority (NMDPRA) said oil marketers have started importing petrol into the country.
Until now, the importation of the product was solely done by the NNPCL.
At a stakeholders' engagement in Lagos, the chief executive officer of NMDPRA, Farouk Ahmed, said of the 56 oil marketing companies that applied for licences, 10 demonstrated commitment while three have imported fuel into the country.
Ahmed listed the three companies currently importing the product to include A.Y. Shafa, Prudent, and Emadeb, adding that others would import in the coming weeks.
He also expressed the commitment of the federal government towards the deregulation of the sector in line with the Petroleum Industry Act (PIA).
He said some challenges that previously affected the seamless importation of the product were being addressed.
Recently, the oil marketers urged the federal government to tackle insecurity and suspend the 7.5 per cent Value Added Tax (VAT) on diesel as part of measures needed to impact operations in the downstream sector.
The oil marketers also urged the government to put in place measures capable of addressing the rising cost of food items and transportation in the nation in order to impact the welfare of citizens affected by the recent deregulation of the sector.
The chairman, Major Oil Marketers Association of Nigeria (MOMAN), Olumide Adeosun, who applauded the President Bola Tinubu for inaugurating the committee on fiscal policy and tax reforms, said the measures were needed as citizens are currently passing through very difficult times.
In a statement, MOMAN had confirmed the capacity of its members to import petrol into the country, especially since their licenses were renewed on a quarterly basis.
He said: "The reality is that many of us have importation licences that have never lapsed. We renew them on a quarterly basis via the NMDPRA portal. Some of us are also importing diesel, so we need these licences.
"The licences cover multiple products such as ATK, PMS, and AGO. The regulator will tell you that we need them even when we are receiving products from the Nigerian National Petroleum Company Limited (NNPCL), particularly on the high sea."
But speaking to our Correspondent, a key petroleum product dealer, said marketers would protest rising exchange rate and dollar scarcity that have impacted their profit.
The source disclosed that they cannot compete any longer as the NNPCL accesses forex at N720 per dollar while marketers buy at 780 per dollar and as at Friday, dollar sold at N850, thus creating imbalance in the system.
Asked if this will push for further pump price adjustment, he said, "So long as the exchange rate keeps going up, the pump price will keep going up.
"Go and check and see that crude price and refined products are sold in dollar. So we buy in dollars and as such market fundamentals determine the price at which we marketers will sell.
"As it stands now, we are not ready to import, else we will sell at a loss because NNPCL gets dollar at lower rate and except this disparity is addressed we are going back to the previous situation," he said.
Meanwhile, President of the Nigerian Association of Liquefied Petroleum Gas Marketers (NALPGM), Olatunbosun Oladapo, has warned that rising international prices, high tax rates and vessel prices, currency scarcity, and naira depreciation would determine the new price of Liquified Petroleum Gas (LPG), commonly known as cooking gas, if the listed factors refused to wane by this week.
"It will begin next week because international prices have risen. Ship costs have risen, and taxes have risen, but consumers have not earn more.
"Their purchasing power has decreased. Everyone is in tears. Consumers, middlemen, and retailers are feeling the pinch because business is now slow," he warned.
Olatunbosun called the impending price increase as "unfortunate", adding that, "the situation is quite bad since prices are rising. Nigerian customers are in a terrible situation since they can no longer buy petrol."
According to him, consumers were returning to cooking with firewood, charcoal, and sawdust.
"The government should step in and alleviate the masses' suffering by providing palliatives and lowering taxes and levies," he stated.
"Imagine that for every 1kg of gas priced at N700, the tax would be N3.50." "How much is there left in this business?
He encouraged the government to tax profits rather than products since customers were no longer purchasing gas.
"Local taxes are exacerbating the problem," he added, urging marketers who have the option of purchasing things locally to set pricing with "consumers' sympathy" in mind.
His reply follows the discovery that vessel scarcity in the worldwide market will drive up local costs of Liquefied Natural Gas, better known as cooking gas, in the coming months, according to reports.
Due to a lack of vessels on the international market, charter rates have risen ahead of the 2023 winter, when demand for heating fuel is expected to increase.
According to statistics from Spark Commodities cited by Bloomberg, charter prices increased to $284,750 per day for November and $206,750 per day for October as of August 1, 2023, quadrupling the existing price of $70,500 per day.
"Tanker supplies are becoming increasingly scarce as traders use the ships as floating storage in the hope that LNG prices will rise as the weather cools."
"Volatile shipping rates can eat up margin for an LNG trader looking to cash in on higher winter prices, and rising transportation costs can ultimately mean higher prices for buyers in Europe and Asia."
The number of LNG boats floating on the water for at least 20 days increased in late July, with 42 vessels recorded, which is around 27 per cent more than the same period last year.
The Nigerian LPG prices are internationally benchmarked and are always impacted by international pricing based on Nigerian Liquefied Natural Gas Contract prices.
Furthermore, the NLNG CP, like other globally traded commodities susceptible to price variations owing to market dynamics, is subject to change and can be evaluated higher or lower at least once to three times.
The depreciation of the local currency would have an effect on the domestic price of LPG.
According to the Central Bank of Nigeria, the dollar was worth N749.62 on Wednesday.
The Nigerian Liquified Natural Gas, NLNG often sells the cooking gas it generates locally to off-takers at the current currency rate.
According to reports, the rates for 20 metric tonnes of LPG at the major Apapa, Lagos, depots between July 28 and August 7 ranged between N10.7 million and N11 million.
Local cooking gas users have been enjoying inexpensive pricing for several months due to a decline in worldwide costs.
Due to the naira depreciation, the price of LPG fell from an average of N730 per kilogramme in June to roughly N600 per kilogramme in July before rising to N750 per kilogramme in August.
According to the US Energy Information Administration, the price plummeted by 76.1 percent in June to 2.10 per one million British Thermal Units on May 31 from 8.78 per one million BTU on May 31.
According to the National Bureau of Statistics, the average retail price for refilling a 5kg cylinder of cooking gas declined by 6.71 per cent month on month, from N4,360.69 in May to N4,068.26 in June.
It fell 3.56 per cent from N4,218.38 in June 2022 to N4,218.38 in June 2022.
Kwara had the highest average price for refilling a 5kg cylinder with N4,750.00, followed by Niger with N4,691.16 and Zamfara with N4,683.33.
Ondo, on the other hand, had the lowest price of N3,287.86, followed by Ekiti and Nasarawa, which had N3,288.46 and N3,364.62.
---
LEADERSHIP