Fitch Affirms Zenith Bank at 'B'; Off Rating Watch Negative, Outlook Stable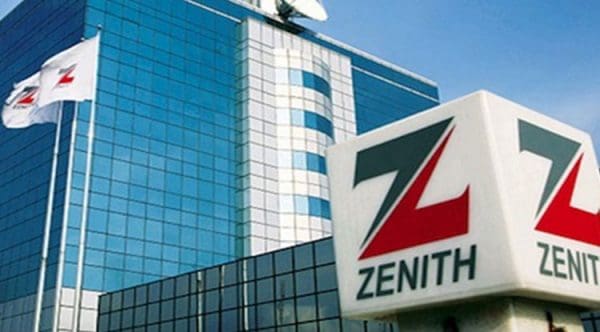 Fitch Ratings has affirmed Zenith Bank Plc's Long-Term Issuer Default Rating (IDR) at 'B' and removed it from Rating Watch Negative (RWN). The Outlook is Stable. A full list of rating actions is below.
The removal of the RWN on Zenith's Long-Term IDR, Viability Rating (VR) and National Ratings reflects Fitch's view of receding near-term risks to the bank's credit fundamentals from the economic fallout arising from the oil price crash and coronavirus pandemic.
In our opinion the impact of the economic downturn on Zenith's credit profile is tolerable at the current rating level and it will take several quarters before the full extent of the crisis' impact on corporates and households is seen in its financial metrics. Regulatory forbearance on asset classification and banks' own debt relief measures have significantly eased sector asset-quality pressures since our previous rating action in March.
However, debt relief measures are temporary and with the eventual easing of fiscal and monetary support from the Central Bank of Nigeria (CBN) there remains a material risk that bank asset quality could deteriorate faster, unless economic recovery gathers pace.
The Stable Outlook on Zenith's' Long-Term IDR reflects our view that the bank's rating has sufficient headroom at this level to absorb moderate shocks from sustained downside risks to the operating environment, the heightened level of risk in doing banking business and resulting risks to its financial performance over the next 12-18 months.
Key Rating Drivers
Issuer Default Ratings And Viability Rating
Zenith's IDRs are driven by its standalone creditworthiness, as expressed by its 'b' VR. The VR considers the bank's exposure to Nigeria's volatile operating environment, but also healthy profitability and solid capital buffers, which provide good capacity to absorb credit losses from the downturn. Asset-quality erosion has been moderate to date, while our assessment also considers the bank's significant non-loan assets, dominated by cash items and Nigeria's government debt. Nigeria's sovereign rating is 'B' with a Stable Outlook.
Zenith is Nigeria's second-largest banking group, accounting for market shares of domestic banking system assets and customer deposits of 16% and 17%, respectively, at end-2019. Zenith has a particularly strong franchise in the prime corporate segment and part of its current strategy is to increase its presence in retail banking.
Credit concentration is a key risk as for peers. Single-borrower concentration is high, with the largest 20 customer exposures measuring 111% of Fitch Core Capital (FCC) at end-1H20. Furthermore, sectoral concentration is high, with exposure to the oil and gas sector (primarily to the upstream segment) representing 27% of gross loans or 73% of FCC. High exposure to the upstream oil and gas sector poses a significant risk to asset quality in the event of a prolonged period of low oil prices and production cuts.
Zenith's impaired loans (Stage 3 loans under IFRS 9) ratio increased to 7.6% at end-1H20 from 6.8% at end-2019 as a result of the classification of several loans, in particular oil and gas exposures, as impaired. Specific coverage of impaired loans (50% at end-1H20) is adequate in view of collateral coverage and recovery expectations. Stage 2 loans also increased significantly to 19.1% of gross loans at end-1H20 (end-2019: 7.3%) due to the classification of several large oil and gas exposures. Net loans were 35% of total assets.
Zenith has strong profitability, as highlighted by operating returns over risk-weighted assets that have averaged 6.3% over the past four full years. Strong profitability is supported by a low cost of funding, strong non-interest income and low loan impairment charges in recent years relative to peers. Headline profitability metrics declined in 1H20, but remained healthy, primarily reflecting increased loan impairment charges as a result of the economic impact of the coronavirus.
Capitalisation is a rating strength, as highlighted by an FCC ratio of 20.7% at end-1H20 that is among the highest in the sector. Zenith's (bank only and transitional IFRS 9 impact) total capital adequacy ratio of 18.9% at end-1H20 indicates a healthy buffer above the 16% minimum requirement (including a 1% domestically systemically important bank add-on). Solid pre-impairment operating profit should cushion the impact on capital from a potential spike in loan impairment charges.
Funding is mainly in the form of a stable and inexpensive customer deposit base comprised of a high proportion of current and savings accounts (90% at end-1H20) and large volumes sourced from retail and SMEs. Single-depositor concentration is low, with the largest 20 depositors accounting for just 6% of customer deposits at end-1H20. Zenith's loans/customer deposits ratio (57% at end-1H20) is low and liquidity coverage is comfortable in both local and foreign currencies.
Senior Debt
Senior debt issued by Zenith is rated at the same level as the bank's IDRs because in our view the likelihood of default on these notes reflects that of the bank. The Recovery Rating assigned to these notes is 'RR4', indicating average recovery prospects.
Support Rating And Support Rating Floor
Sovereign support to banks cannot be relied on given Nigeria's weak ability to provide support, particularly in foreign currency. The Support Rating Floor of all Nigerian banks is 'No Floor' and all Support Ratings are '5'. This reflects our view that senior creditors cannot rely on receiving full and timely extraordinary support from the Nigerian sovereign if any of the banks become non-viable.
National Ratings
Zenith's National Ratings reflect its creditworthiness relative to other issuers in Nigeria and are driven by its standalone strength. They are at the higher end of the scale, reflecting Zenith's comparatively strong company profile and funding franchise, profitability and capitalisation.
Rating Sensitivities
Factors that could, individually or collectively, lead to positive rating action/upgrade: Upside to the ratings is unlikely at present and would require a material improvement in operating conditions and a sovereign upgrade.
Factors that could, individually or collectively, lead to negative rating action/downgrade:
Negative rating action on the sovereign and/or if our assessment of the operating environment is revised downward. The latter could be driven by persisting post-lockdown disruption, weak oil prices and extended global economic turmoil, giving rise to a more severe economic and financial market fallout than expected.
Zenith's impaired loans ratio increasing significantly to above 10%, resulting in considerable bottom-line losses and erosion of capital buffers, with FCC ratio remaining below 15% for a sustained period.
A severe tightening in the bank's foreign-currency liquidity.
Best/Worst Case Rating Scenario
International scale credit ratings of Financial Institutions and Covered Bond issuers have a best-case rating upgrade scenario (defined as the 99th percentile of rating transitions, measured in a positive direction) of three notches over a three-year rating horizon; and a worst-case rating downgrade scenario (defined as the 99th percentile of rating transitions, measured in a negative direction) of four notches over three years. The complete span of best- and worst-case scenario credit ratings for all rating categories ranges from 'AAA' to 'D'. Best- and worst-case scenario credit ratings are based on historical performance.