EMEA organisations trouping towards adopting Backup-as-a-Service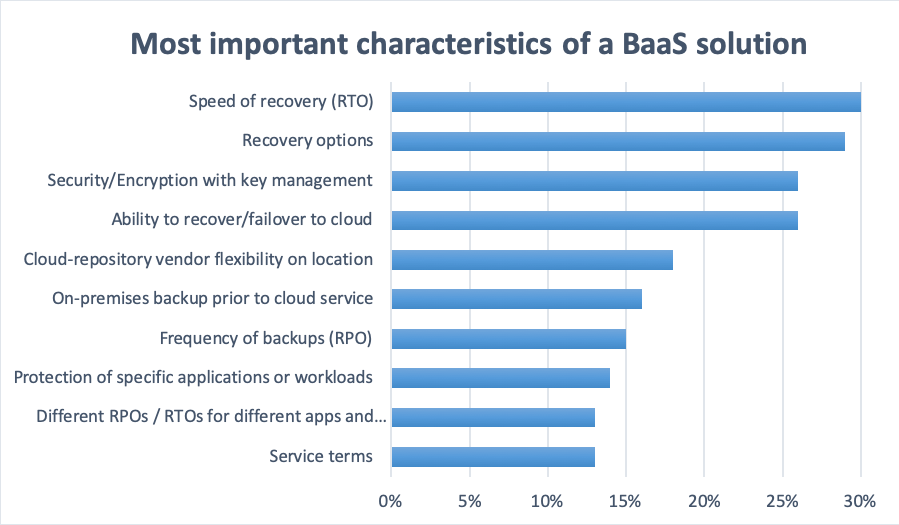 Infrastructure failure, skill gap propelling the process
Cloud-based backup-as-a-service (BaaS) is expected to gain traction in the next two years, with almost two in five surveyed Europe, Middle East and Africa (EMEA) organisations planning to utilise a BaaS provider.
BaaS is an approach to backing up data that involves purchasing backup and recovery services from an online data backup provider.
Instead of performing backup with a centralized, on-premises IT department, BaaS connects systems to a private, public or hybrid cloud managed by the outside provider.
This is one of the key findings of the Veeam 2020 Data Protection Trends Report, which surveyed more than 1,500 global enterprises to understand their current approach to data protection and management.
The scope of modern data protection and management has become an increasingly complex issue for EMEA organisations as they grapple with challenges from downtime to gaps in availability and protection to full-blown cyber attacks, notes the report.
The survey found that while data was recognised as a key element across enterprises, 47 per cent of surveyed organisations are being hindered in their digital transformation (DX) journeys due to unreliable legacy technologies and lack of IT skills or expertise as the main barriers to success, representing 44 per cent of respondents.
More than half, that is 54 per cent of Middle East and African organisations surveyed reported an availability gap − what the business expects in uptime versus what IT can pragmatically deliver.
Over a quarter, 28 per cent, of organisations said their data is backed up to the cloud via a backup-as-a-service. This number is slightly higher than the global average of 27 per cent and just below the self-managed backup number, where all data remains on-premises and measured 27 per cent.
In response to their data management challenges, or as part of a continuous effort to modernise data protection, around 38 per cent of EMEA organisations said they are planning to utilise a backup-as-a-service provider within the next two years, reveals the survey.
Moreover, almost every company admitted to experiencing downtime and having unexpected outages each year − problems that last for hours and could cost hundreds of thousands of dollars – pointing to an urgent need to modernise data protection and focus on business continuity to enable successful DX.
"While businesses are more reliant on digital infrastructure than ever before, basic backup needs are still unmet," says Kate Mollett, regional manager for Africa at Veeam.
"Many organisations would like to believe their systems, infrastructure and networking are becoming more reliable and resilient, but the report shows that the top cause of outages remains data centre equipment failure.
"Infrastructure still fails and networking issues still happen. These hardware-oriented outages are occurring at a much higher rate than most would think."
In terms of unexpected outages, the Veeam 2020 Data Protection Report shows the percentage of servers with at least one unexpected outage globally is 9.8%, while the figure for Africa is 10.1%.
Out of these unexpected outages, the top three causes in Africa, in order of prevalence, are server hardware, infrastructure/network and public-cloud outage.
Data protection during COVID-19
The Veeam report reveals cyber security threats of 31 per cent are the number one challenge that will impact Middle East and African organisations.
Data management was a priority for organisations before the global coronavirus (COVID-19) crisis and still is, in the advent of the urgent need for remote working during the lockdown period introduced to contain the spread of the virus.
But what has changed is where and how employees are utilising remote working technologies, forcing organisations to review their business continuity plans, resulting in data management and security being the priority of any business during this time.
"Working remotely has highlighted the importance of endpoint data protection and connectivity, and the need to create secure connections for employees and organisations as it not only puts data at risk but also increases the attack vector for any malicious activity," notes Mollett.
"More than ever before, businesses have had to transition rapidly to adapt to lockdown regulations and become even more reliant on technology infrastructure."
According to the report, almost three-quarters, precisely 74 per cent, of Middle East and African organisations use Office 365 for e-mail, along with OneDrive and SharePoint, which is significantly higher than the global average of 65 per cent.
Businesses need to conduct regular backups to ensure all data created by employees is stored and managed in a secure and resilient way, advises Veeam