Professor Aderounmu Challenges Graduates to Create Sustainable Future with ICT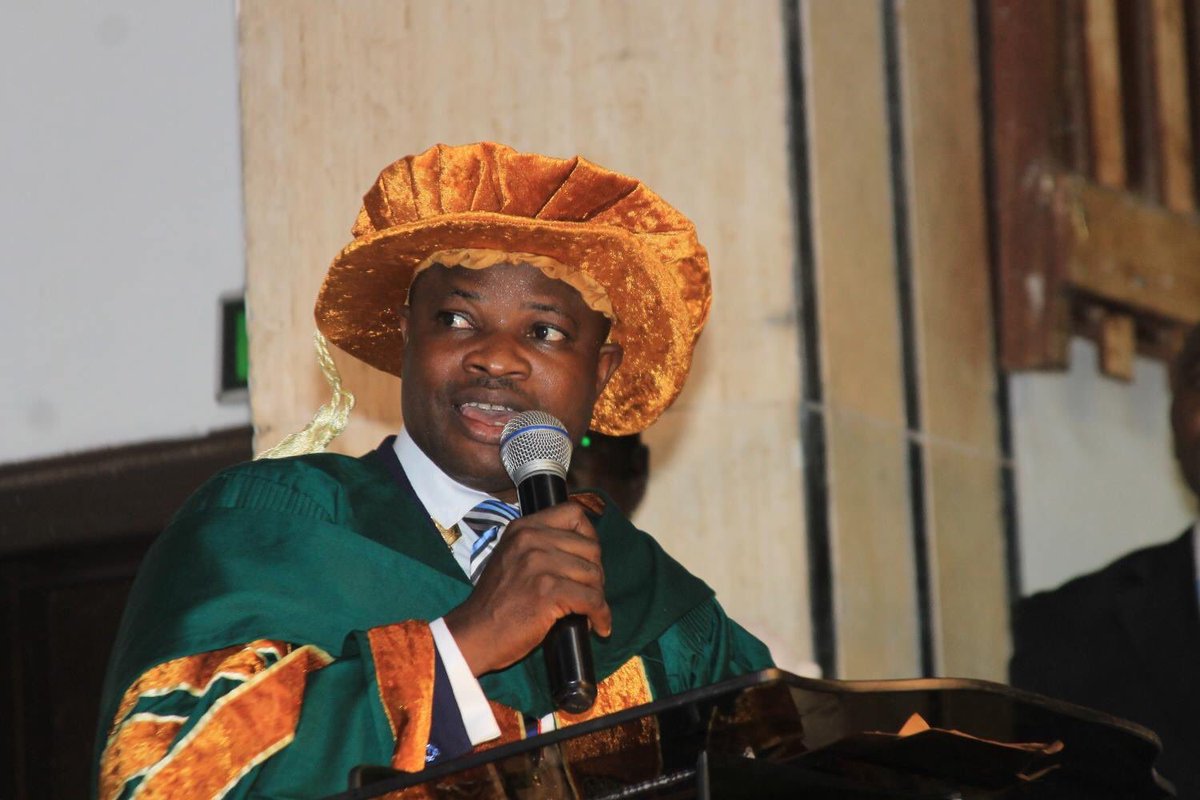 Sola Aderounmu, a Professor of Computer Science and Engineering, has challenged graduating students from Oke-Ogun Polytechnic, Saki, Oyo State to brace up to create their own sustainable future leveraging on digital skills.
In his convocation lecture titled 'Utilising Public-Private Partnerships for Sustainable Development in Nigeria,' the former President of the Nigeria Computer Society (NCS) charged the fresh graduates that this is critical with the contemplation of entrepreneurship and wealth creation.
He said, "We talk about sustainable development for a community, society, institution, state, country and the world, but individuals must also create a sustainable future for themselves.
"Now, my dear graduating students, your sustainable future lies in what you do with the education, training and skills you have acquired from this institution to create a source or sources of livelihood and wealth that will sustain your entire life and family, while adding value to your society."
He explained that polytechnic education is not meant to only provide requisite vocational manpower for the economy, but to also produce innovators and creators of wealth who will create jobs.
Therefore, he said, "as you graduate and go out there to carve your own path to a sustainable future, you need to cultivate the right frame of mind for the world of work.
"Why? Well, the rate of unemployment in Nigeria today only keeps getting worse. According to recent econometrics in 2022, the rate of general unemployment in Nigeria hovers around 33 per cent, while according to Dr. Akinwumi Adesina of African Development Bank, about 40 per cent of Nigerian youths are jobless."
Professor Aderounmu described this a scary and alarming labour market scenario, adding that the implication is that today's graduates should not expect to get jobs on a platter of gold.
He further said, "You need to think and envision yourselves as potential entrepreneurs and owners of new businesses creating jobs rather than professional applicants peddling certificates and CVs on the streets of Ibadan, Lagos and Abuja looking for jobs!"
He however noted that despite the multitude of overwhelming challenges in Nigeria which are making young people desperate for survival by any means, the country remains a place of boundless opportunities for those who can be patient, radical in thinking, creative and determined to start new ventures.
The professor, who also doubles as Centre Leader, World Bank sponsored Africa Centre of Excellence in Software Engineering, further endear the Information and Communications Technology (ICT) sector to the graduates, saying that the sector provides a typical case of limitless entrepreneurial possibilities which tech-smart young Nigerians are exploiting to create new businesses and wealth for themselves.
"So, in addition to the quality education and training you have got in this school in your various disciplines, I enjoin you graduating students to also empower yourselves further by acquiring more ICT training and skills in relevant areas like coding, digital marketing, artificial intelligence, programming, web and app development, digital project management, data analytics, cyber security, cloud computing and so on. These are all digital skills in high demand today," he said.
He stressed that it is not enough to become graduates; students need to acquire up-to-date digital skills whether for employability or entrepreneurship purposes.
Quoting United Nations Educational, Scientific and Cultural Organization (UNESCO), he explained digital skills refer to a range of abilities to use digital devices, communication applications and networks to access and manage information.
These skills enable people to create and share digital content, communicate and collaborate, and solve problems for effective and creative self-fulfillment in life, learning, work, and social activities, according to him.
"Those who learn digital skills not only make themselves more employable or entrepreneurial, but also future-proof their careers by leveraging key digital channels.
"So, with IT skills and continuous improvement of yourselves, you may either get        well-paid jobs in reputable organisations or become innovators and creators of new businesses riding on increasing digital technology innovations.
"There should be no excuses for joblessness, lamentations about the government not providing jobs, desperate resort to criminal means to get rich, or attempts to commit suicide due to depression.
"To avoid the foregoing negative trends and get yourself productively engaged, all you do is look at your environment, identify problems you can solve for people and you are on your way to creating wealth!
"As Milton Berle said, "If opportunity doesn't knock, build a door!" But there are always opportunities hiding in problems and challenges around if only you can look with a positive, inquisitive and creative mind," he said.