No Political Motives Behind Naira Redesign – EFCC Chair Bawa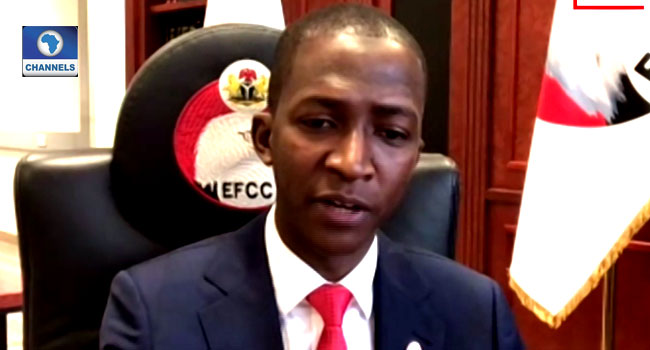 The Chairman of the Economic and Financial Crimes Commission (EFCC), Abdulrasheed Bawa, has said the decision to redesign the naira has no political undertone.
Rather, he said the policy is targeted at retrieving hidden public funds looted by corrupt persons in the system.
Bawa stated this in an interview with Deutsche Welle DW Hausa Service, adding that the government wanted people who hid the funds to deposit them in bank accounts.
He noted that the President Muhammadu Buhari had evaluated and accepted the advice put forward by the Central Bank of Nigeria (CBN) on the redesign of the naira.
According to him, "These public funds were embezzled and we want them to return them; we have not told anyone not to bring this money out. What the government said was to deposit the money into bank accounts, or else sanctions may follow.
"The redesigning of the naira in law is expected to be done after every eight years; Nigeria has 20 years without redesigning, almost 80% of the naira is not in the bank and the CBN is in the hands of people; so how can the government succeed? How can a country get 25% of foreign exchange which is a benefit from its currency in 10 days?
"There is no political motive behind this; some people siphoned and hid public funds and that is why we want them to bring them out.
"We are also calling on Nigerians and even non-Nigerians that all channels are accessible; if anyone knows someone who hid suspicious money, they should alert us and we will investigate it; when we investigate the money and get it, the whistleblower also gets 5 per cent."
According to the EFCC boss, when the issue of the redesign of the naira came up, the dollar rose to N880, but later crashed to N680.
"It is just a mirage and maybe with this, the dollar may crash completely to even N200, who knows?" he added.