Equities market rebounds amid insurance rally; investors gain N50bn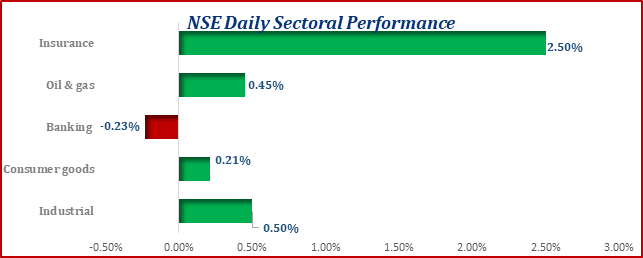 Equities market rebounds amid insurance rally; investors gain N50bn
---
The Nigerian equities market closed Wednesday's trading session on a positive note amid renewed interest in insurance stocks.
The benchmark All Share Index (ASI) advanced  by 233 index points  to close at 41,147.72 basis points with market capitalization gaining  N50 billion to settle at  N21.525 trillion, while the Year-to Date (YtD) performance improves  to  +2.18 per cent.
The breakdown across different sectors indicates bullish performance with insurance index standing a top of the gainers' chart.
The insurance and oil & gas indices advanced by 2.50 per cent and 0.45 per cent following gains recorded in the shares of MBENEFIT (+10.00 per cent) and ARDOVA(+9.72 per cent).
Similarly, consumer and industrial indices went up by 0.21 per cent and 0.50 per cent due to bargain hunting in the shares of NNFM(+10.00 per cent) and WAPCO(8.16 per cent).
On the flip side, banking index closed negative as the only sector with negative performance during the session following loss in GUARANTY(-2.07 per cent)
Investors' sentiment was positive as 55 stocks  advanced while 16 stocks declined indicating a 3.44x market breadth.
Market activity level was mixed with volume of transaction advancing by 23.74 per cent while value declined by 13.59 per cent.
Deap Capital Plc, Mutual Benefit Plc, NNFM Plc, Niger Insurance Plc, Royal Exchange Plc and Sovereign Trust Insurance Plc led the gainers' table with a gain of 10 per cent each to close at 22 kobo, 55 kobo, N8.80, 33 kobo and 44 kobo per share respectively.
Livestock Feeds Plc and BOC Gases Plc followed with a gain of 9.80 per cent each to close at N2.80 and N15.12 per share respectively. CHI Plc added 9.76 per cent to close at 45 kobo per share.
On the other hand, SUNU Assurance and AXA-Mansard Plc led the price losers' table, dropping 10 per cent each to close at 90 kobo and N1.53 per share.
Japaul Gold Plc followed with 9.38 per cent to close at N1.16 per share while Afromedia Plc trailed with a loss of 9.09 per cent to close at 20 kobo per share.