Digital Encode bags Cybersecurity Diversity Company of the Year Award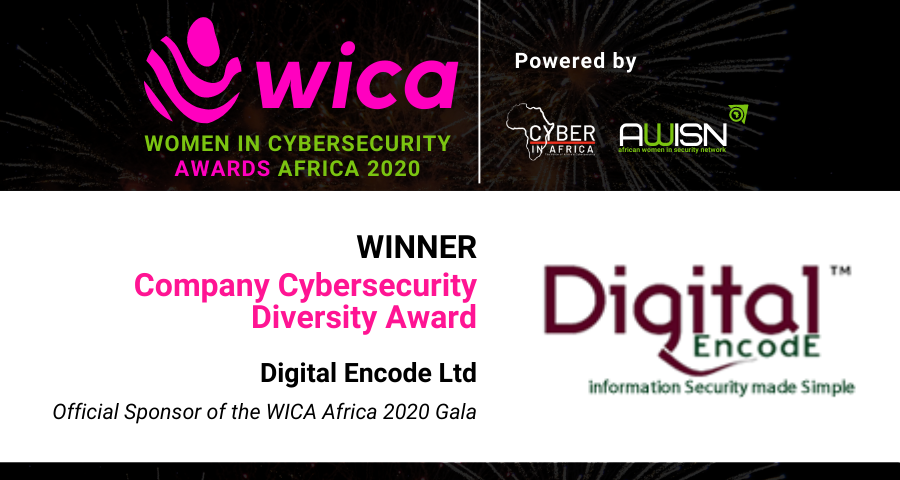 Says 40% of the workforce are women
______________________
 Digital Encode Limited, a leading consulting and integration firm in Africa, has received the "Cybersecurity Diversity Company of the Year Award" at the inaugural Women in Cybersecurity Awards Africa 2020 (WICA Africa).
The award was presented to Digital Encode at the first of its kind award to honour cybersecurity professionals in Africa, for its outstanding role in promoting and mentoring women in cybersecurity.
The Company specializes in the design, management, and security of business-critical networks, telecommunications environments and other Information Technology (IT) infrastructures.
Presenting the award to Digital Encode, Cephas Okoth, the founder and editor, Cyber in Africa, headquartered in Nairobi (Kenya), said, "The award is a means to honour Digital Encode as a company that values and incorporates diversity in their security team.
According to him, other awardees are "women who are making notable differences in the cybersecurity profession, their work and the industry as a whole. Helping African organizations, governments and the society be more digitally safe".
While receiving the award, the Co-founder and Chief Operating Officer of Digital Encode, Dr. Peter Adewale Obadare, thanked the organisers, first, for recognising the Company's efforts in assisting companies to achieve their data protection goals through a well-defined secure process.
He said that Digital Encode has been deliberate in its quest to promote the women-in-cybersecurity industry as 40% of the workforce is made of women who have displayed professionalism and competency.
Dr. Adewale pledged that the Company will continue to translate strategic business objectives into sound, achievable technology solutions for the clients.
Also speaking, the Co-Founder and Chief Technical Officer of Digital Encode, Dr. Seyi Akindeinde, hailed Women in Cybersecurity Awards Africa 2020 (WICA Africa) as the Oscar award for women in cybersecurity on the Continent.
According to him, cybersecurity is a serious business that requires meticulous approach hence women have become beacons in this regard.
"We receive this award with gratitude. It is another testament to Digital Encode believes in experience and insight, that catalyse attainment of unprecedented heights in our pursuit to enabling a safe cyberspace for Nigeria and in extension, Africa.", he concluded.