Osinbajo Declares Oguta Lake-Orashi as Economic Gamechanger; Project Commences Today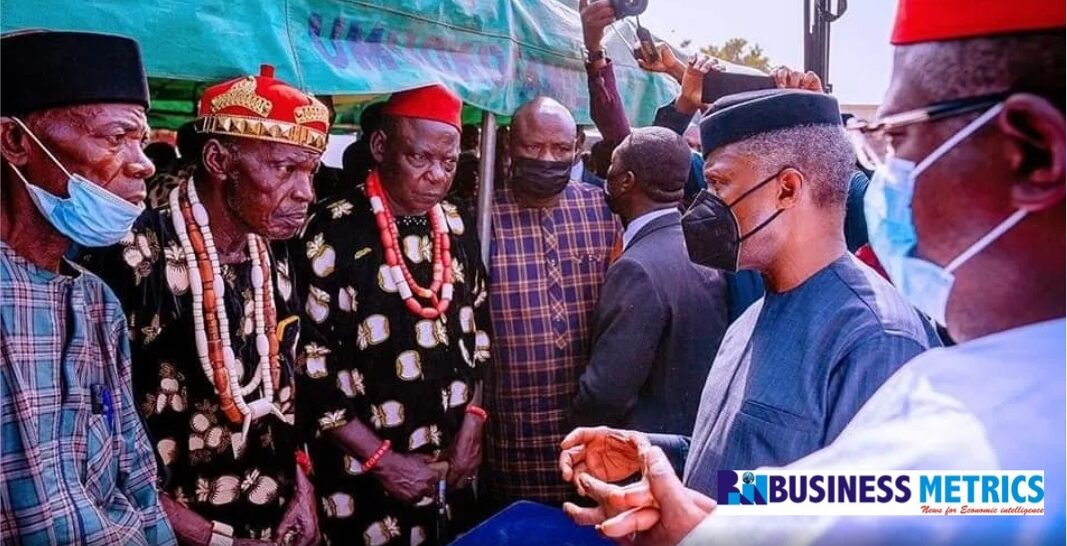 Vice-President Prof. Yemi Osinbajo has described Oguta Lake to Orashi hydrographic survey and dredging project as a gamechanger as the project commence today.
Speaking at the event in Imo State, the Vice President said as a gamechanger, the project will lead to the economic transformation of the South-East region of Nigeria.
He commended Governor Hope Uzodinma for the foresight and proactive leadership to initiate the project.
Governor Hope Uzodinma in his remarks said the project was part of the broader plan to position Imo State as the economic hub, east of the Niger through the proposed Orashi Oil and Gas Free Trade Zone.
He said the Orashi Oil and Gas Free Trade Zone will cover three local governments, namely Oguta, Ohaji/Egbema and Ngor Okpala measuring 140,116 hectares of land.
According to the Governor, the Orashi Free Trade Zone will be home to manufacturing and Oil & Gas activities.
Speaking further he noted that the dredging of the Oguta lake-Orashi river to the Altantic Ocean, will enable sufficient depth to berth small to medium size vessels, and provide an evacuation corridor for gas and other products processed and/or produced in the Oil and Gas free trade zone.
The event also had in attendance the Chief of Naval Staff Vice Admiral Awwal Gambo, Minister of Transportation Mr. Muazu Jaji Sambo and Otunba Niyi Adebayo, Minister of Industries, Trade, and Investments.
The Oguta Lake-Orashi hydrographic survey and dredging project is a public-private partnership arrangement between Imo State, Federal Government, the Nigerian Navy, and International Venture firms.