Itel S23+ : First Itel with Curved Screen Debuts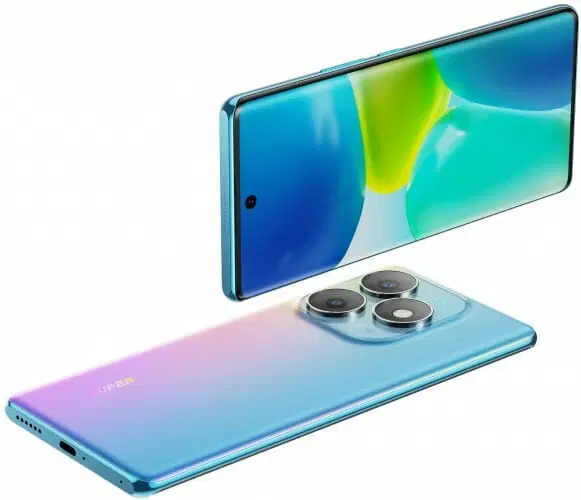 By David Alonge
---
Itel has introduced its first ever curved screen smartphone, the Itel S23+. With a stunning 59-degree curved display, this device promises to revolutionize the way we experience our smartphones.
The much-anticipated launch event for the Itel S23+ was Led by the Country Manager, Veeki Chenn, and the event featured insightful presentations by the Marketing Manager, Mr. Oke Umurhohwo, and the National Trainer Manager, Miss Chiwendu Ufomba.
One of the standout features of the Itel S23+ is its 6.78-inch AMOLED screen with a resolution of 1080X2400 pixels. This stunning display offers a 93% screen-to-body ratio, ensuring a seamless and immersive visual experience for users. The curved design enhances not only the aesthetics but also the functionality of the device.
Under the hood, the Itel S23+ boasts a powerful 12nm Unisoc T616 SoC, paired with a generous 256GB of internal storage and 8+8GB (16GB) of RAM. This powerful combination ensures a smooth and lag-free user experience, whether you're multitasking or enjoying graphics-intensive applications.
The Itel S23+ features a 50MP portrait rear camera and a 30MP front-facing camera. These high-resolution cameras promise to deliver stunning photos and videos.
Itel has also introduced "Aviana," an intelligent GPT AI assistant designed to simplify everyday tasks through voice commands. With Aviana, you can perform tasks, get answers to questions, and control your device effortlessly. The device also comes equipped with Atom storage technology, which helps maintain optimal performance throughout the life of the device.
The Itel S23+ runs on Android 13.1-based Itel OS 13. This custom operating system offers a smooth and user-friendly interface, enhancing your overall smartphone experience.
With a 5000mAh non-removable battery, the Itel S23+ ensures that you stay connected all day long.  it is also supported by an 18-watt Type-C charger that can provide a full charge in just 40 minutes.
The brand has also introduced an impressive after-sales service package for the Itel S23+. Unlike the standard 12+1-month warranty, this device comes with an extended warranty of up to 36 months with 6 months of free screen replacement. For security, the Itel S23+ offers cutting-edge in-screen fingerprint scanner.
Priced at N148,000, the Itel S23+ positions itself as a mid-range device, making it accessible to a wide range of consumers. The device is currently available in the market, ready for purchase.
Itel's commitment to innovation extends beyond smartphones; the brand is diligently constructing an ecosystem of accessories to complement their devices. This includes the Itel Buds Ace that boasts up to 36 hours of usage, The Keekid that includes a watch, keypad, writing tablets for kids, and has access to the Nigerian educational platform. They also offer the Greenew 60000mAh power bank with a solar power guarantee.