Winners Emerge from  2022 9Mobile Essay Competition on Environment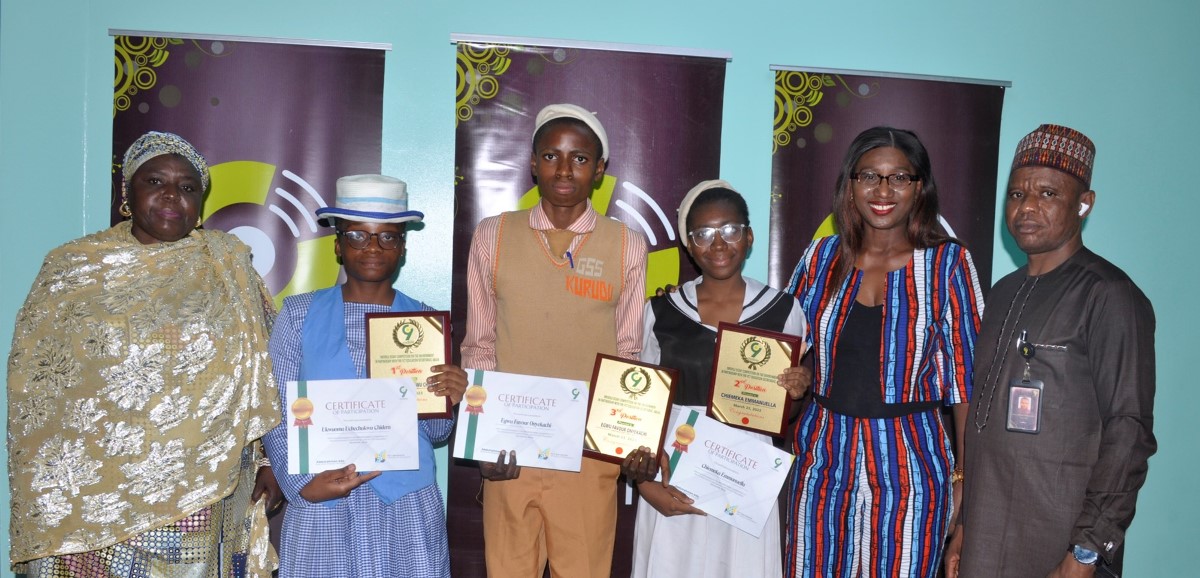 By Rosemary Iwuala
---
Telecommunications service provider, 9mobile, has announced the winners of the maiden edition of the 9mobile Essay Competition on the Environment. 
The competition, which was open to government senior secondary school students in Abuja, is designed to encourage young people to think critically about environmental issues and raise awareness about environmental protection and sustainability.
The essay competition with the theme, 'How Is Overpopulation Becoming a Global Pandemic to the Environment?' received an overwhelming response from participants from over 60 government secondary schools in Abuja.
After careful review and evaluation, Chidera Ukwuoma from Government Secondary School, Dutse, emerged first place winner; Emmanuella Chiemeke from Government Secondary School, Kubwa, came second, while Favour Egwu of Government Secondary School, Kurudu, came third.
Abdulrahman Ado, The Executive Director of Regulatory and Corporate Affairs, 9mobile, represented by Chineze Amanfo, the PR Lead, 9mobile, said, "We would like to appreciate all the participants of the competition for their hard work and efforts and congratulate the winners on their outstanding performance.
"We were particularly impressed with the quality of the essays we received. We believe that the competition has succeeded in encouraging young people to think critically about environmental issues.
"We hope it has inspired them to take action to protect the planet. We also commend the commitment and support from the Federal Capital Territory (FCT) Education Secretariat, Abuja," he said.
Hajiya Ramatu Habu, The Director of Science, Technology and Vocational Education, FCT Education Secretariat, Abuja, representing the Director of Science, Technology, and Innovations, FCT Education Secretariat, Abuja, said, "We want to commend 9mobile for putting together this essay competition, which has not only increased the writing skills and creativity of our students but also enhanced their research potential as they were able to go in-depth sourcing for educational materials to effectively defend their argument on the topic.
"We hope this competition will inspire other students to explore this topic further and contribute to the ongoing conversation," she added.
The first-place winner, Ukwuoma, responded after the announcement, saying, "I want to thank 9mobile and the FCT Secretariat for giving us this opportunity. I think, someday, I will impact other people's lives as well. Before this competition, I was not aware of the consequences of overpopulation as a global pandemic, but now I am better enlightened, and I would like to inform others as well."
The essays were evaluated by a panel of renowned education experts based on originality, clarity of expression, depth of research and relevance to the competition's theme.
The top 10 winners received prizes and were recognised for their achievements at the 9mobile office in Abuja.
"9mobile remains committed to supporting initiatives that promote environmental sustainability and will continue to urge young people to be responsible stewards of the environment," Amanfo reaffirmed in her concluding remarks.