Abuja School Wins N1.5m Star Prize of NCC Maiden 'Nigerian Girl Can Code' Competition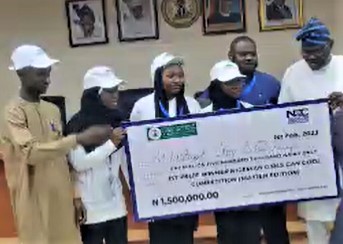 T – TARBIYYAH STEM SCHOOL Abuja has emerged as the winner of the maiden edition of the "Nigerian Girls Can Code" competition organised by the Nigerian Communications Commission (NCC), to address the challenges of digital inequality in the Information Communication Technology (ICT) sector.
The school, which emerged as the overall winner went away with the prize money of N1.5 million while
Federal Government Girls College second runner-up, with N1 million and Ambassadors School Ogun State emerged second runner up with N500,000.
The Chairman of the NCC Board of Commissioners, Adeolu Akande, who presented the awards to the winners of the maiden edition said: "Winners of this competition were selected based on the application functionality, innovation, accessibility, commercial potential and overall national impact.
He assured that the Commission is committed to achieving pillar 2, of the National Digital Economy Policy and Strategy (NDEPS), 2020-2030 which focuses on digital literacy and skills.
"For the competition, the NCC sent invitations to 54 secondary schools but only 36 responded with 12 indicating interest. However, out of the 12 only 11 participated with four judges, namely: Agwu Amugo, SAGE Nigeria (Chairman) Martha Alade, of Favour Women in technology in Nigeria (WITIN), the Administrative Secretary of Institute of Software Practitioners of Nigeria, Paul Uzoechina, and Halima Mohammed of the NCC."
The competition was on "Innovative ways to address the challenges of food insecurity through the application of 5G technology."
The Executive Vice Chairman of the NCC, Prof. Umar Danbatta who was represented by the Commissioner of Technical Services, NCC, Mr Ubale Maska, said the competition is designed to empower girls in tech.
"The inclusion of girls in the ICT is in line with the United Nations efforts to empower girls in tech and close the digital gender gap."
"The competition has been designed to enhance digital literacy and skills for the country's emerging digital economy, bridge digital inequality, improve digital access as well as narrow the digital divide between men and women in ICT innovation and development.
"The *Nigerian girl can code* competition is also framed to support technology skills learning for girls and promote broader national audience amongst others."
Danbatta emphasised that empowering women and girls will fuel thriving economies, spur productivity and growth adding that "Women lack access to decent work and face occupational segregation and gender wage gaps."
"We believe that critical societal problems can be solved using technologies such as artificial intelligence, internet of things and data analytics. Application of these emerging technologies in agriculture has the potential to increase both operational efficiency of farmers and the yield of the land.
"It will provide competitive edge needed by farmers in terms of accurate decision making, improved productivity, and efficiency."