METRICS: Nigeria loses 1.65m broadband connections in 30 days
---
As penetration reverses to 45.07%
Operators connect 13.88m to high speed internet in 11 months
Total internet subscriptions hit 154.88m
One of the major metrics used to measure how well the telecoms sector is fearing in Nigeria is the movement in subscriber bases of voice, internet and broadband or high speed internet in the country.
Findings through the latest industry statistics released by the Nigerian Communications Commission (NCC) has  shown a slight decline in the figures as at November, 2020.
Business Metrics found that during the month, at least 1.65 million broadband connections on the networks of operators were lost compared to the preceding month, October.
Specifically, broadband penetration stood at N45.07 per cent, equivalent to 86.03 million connections the month under review is lower than the previous record of October when operators served 87.68 million broadband users, equivalent to 45.93 per cent.
While the total internet access in the country stood at 154.88 million in November, rising from 152. 93 in the previous month, connection to 3G and 4G networks, which are categorized by the Nigerian technical standard as high speed internet or broadband declined.
However, analysis of the data shows that in the 11-month period spanning January to November, 2020, broadband penetration has surged appreciably by 7.27 per cent as network providers connected 13.88 million new lines and users within the period.
On month-on-month basis, broadband stood at 38.49 per cent or 73.47 million in January 2020; 39.58 per cent or 75.56 million February and 39.85 per cent, equivalent to 76.08 million subscriptions in March.
However, the figure slid to 39.54 per cent or 75.47 million subscriptions in April after a loss of 610,000 broadband connections in the month.
Broadband however rebounded in May last year, to hit 40.09 per cent or 76.53 million while it grew to 41.23 per cent or 78.7 million connections in June.
The uptrend continued throughout the third quarter with 80.22 million or 32.02 per cent in July; 82.65 million or 43.30 per cent in August; and 86.72 million broadband connections representing 45.43 per cent penetration in September.
While operators further recorded growth in broadband connections on their respective networks in October, standing at 87.68 million or 45.93 per cent, the figure declined in November to stand at 86.03 million or 45.07 per cent, according to the latest NCC data.
Why this matters
The rise in broadband penetration and other growth metrics of the telecoms sector is often described as a gain and even celebrated by the stakeholders, particularly the government.
For instance, Isa Pantami, the minister of the Federal Ministry of Communications and Digital Economy, came out in November last year to celebrate the increase in the country's broadband to 45.43 per cent at the end of October 2020.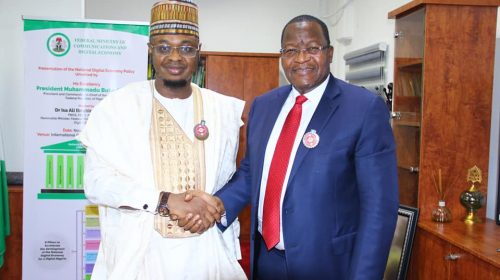 In a statement signed by Femi Adeluyi, his technical assistant, Pantami said the rise in broadband penetration was as a result of the increase of 4,061,731 broadband subscriptions between September and October 2020.
He also ascribed the increase in broadband penetration to the conscientious implementation of the National Digital Economy Policy for the overall benefit of the economy to achieve a Digital Nigeria.
This justifies the need to show concern when the celebrated figures grow smaller at any time as this may be pointing to certain obstacles leading to disconnection of Nigerians from the networks described as an enabler of socio-economic growth.
For instance, apart from broadband that declined, total active telephone lines in the country also reversed from 207,954,737 in October to 207,907,709 in November which led to a marginal slip in teledensity from 108.94 per cent from the previous month to 108.92 in November.
Particularly, broadband is critical to sustainable economic growth and according to the International Telecommunications Union (ITU) Broadband Series, broadband contributes to economic growth through more efficiency in business processes, acceleration of innovation and more efficient functional deployment of enterprises.
Also, a report titled "How Important Are Mobile Broadband Networks for Global Economic Development" shows that 10 per cent increase in mobile broadband penetration can drive up Gross Domestic Product (GDP) by approximately 0.6 per cent to 2.8 per cent.
As broadband connections just suffered a major decline in one month, the situation leaves much to be desired for authorities and operators alike in Nigeria.