Machina Refuses to Surrender APC Senatorial Ticket to Lawan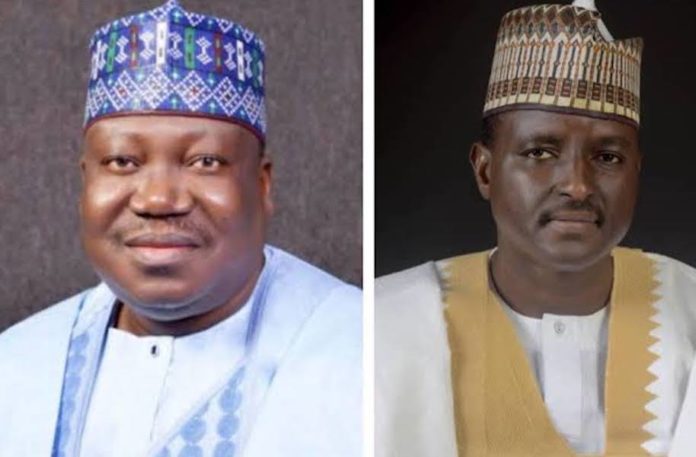 By Ahmed Ayanfe
---
The political journey of Senate President, Ahmed Lawan back to the Senate in 2023 has met brick walls as the winner of the All Progressives Congress (APC) Yobe North Senatorial Ticket, Bashir Sheriff Machina has refused to step down him.
Recall that Lawan had contested in the Presidential primary of the ruling party where he came 4th, led Vice President Yemi Osinbajo (3rd), former Transportation minister, Rotimi Amaechi (first runner-up) and Asiwaju Bola Tinubu, winner of the election.
After losing his bid to the highest political office in the country, Lawan is struggling is way back to the senate in 2023 to by securing ticket to the red chamber initially won by Machina in the party's senatorial primary election.
However, the winner of the APC Yobe North Senatorial Ticket, Bashir Sheriff Machina, has said that he will not step down for the Senate President.
Machina said he was approached by some people to step down but that he wouldn't.
In a letter signed by Machina to the National Chairman on Monday, the senatorial candidate said: "I write to reaffirm my continual aspiration as the APC unequivocal senatorial candidate for one North Senatorial district, following my clearance, participation and victory at the party primaries where I pulled 289 votes out of the 300 total votes cast.".
"I write to reaffirm that I remain committed to the mandate which I won at the primaries, and I have not in any form or manner communicated otherwise. I have been informed of a purported malicious and mischievous report and insinuation to the contrary".
The Senate President contested the APC presidential ticket and lost. He had been representing Yobe North senatorial district at the National Assembly for 15 years.
Meanwhile, Lawan has consoled his colleagues who failed to secure tickets of their political parties to contest the 2023 general elections.
Lawan stated this at the resumption of Senate plenary on Tuesday in a remark to welcome the lawmakers from break.