Indigenous digital marketing firm to train youths on emerging digital skills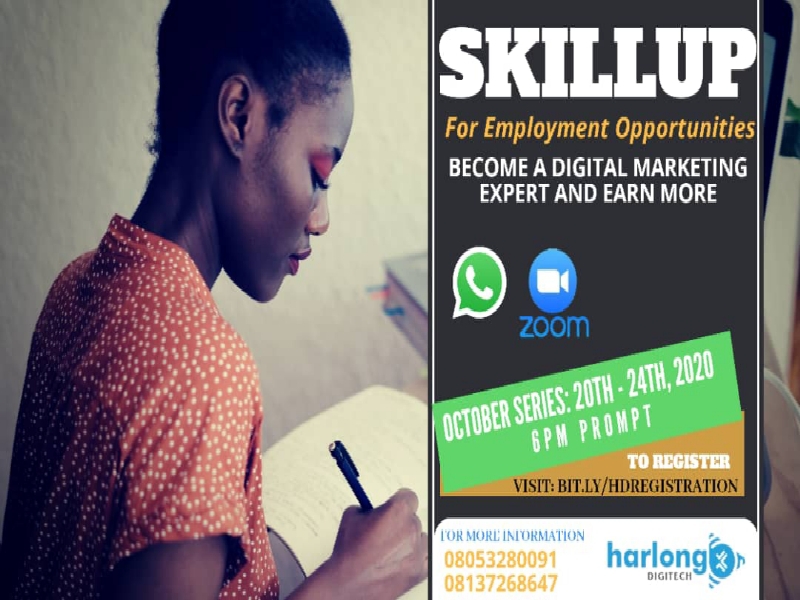 Harlong DigiTech, an indegeneous digital marketing firm has perfected plan to train one thousand youths and small business owners on acquisition of relevant digital skills.
The training, which, according to the organiser, will run over a five-month period for different batches, is conceived as a way of injecting innovations into small businesses especially after the disruption triggered by coronavirus pandemic that has affected the survival of micro, small and medium enterprises (MSMEs) in the country.
In a press statement, David Alonge, Team Lead at Harlong DigiTech, said the digital skill training which will run in tranches of 200 monthly participants, is set to impact digital marketing knowledge that will enable participants earn income from the comfort of their home.
According to him, Alonge emphasised that the purpose of the training is to cushion the effect of the pandemic by empowering the youths and small business owners across the country with required skills that can help them boost their productivity and acquaint them with digital kneledy that will help them generate extra income for themselves from anywhere in Nigeria.
"We understand that the pandemic has negatively affected the sources of income of most Nigerians, especially our young ones and rendered many jobless. Reasons we develop this digital marketing training to empower over a thousand youths and small business owners gaining the required skills to boost their hustle online and earn from the comfort of their home.
"Since the pandemic has encouraged many people and organization to familiarize themselves with working from home, we believe our youths and entrepreneurs should also be adequately equipped with the needed digital skill to earn from home or anywhere", Alonge stated
He further explained that the digital skill training for the month of October which was tagged 'Skill Up for Employability' will commence from Tuesday, 20th to Saturday, 24th of October, 2020, adding that it is expected to train over 200 participants across the country.
On the benefits of the training, Alonge stated that "the October training will enable participants to stand a chance to compete in the labour market for those who are seeking employment, monetize each of their digital skills using their mobile phone and the internet, access various tools that will ease their work, ebooks for further learning and access to mentoring sessions with the organizer's team."
"Interested participants are set to register by clicking on this link for the Harlong Digitech SkillUp Training to fill the required details," the statement concluded.