Equities defy predictions; sustain bull-run with N50bn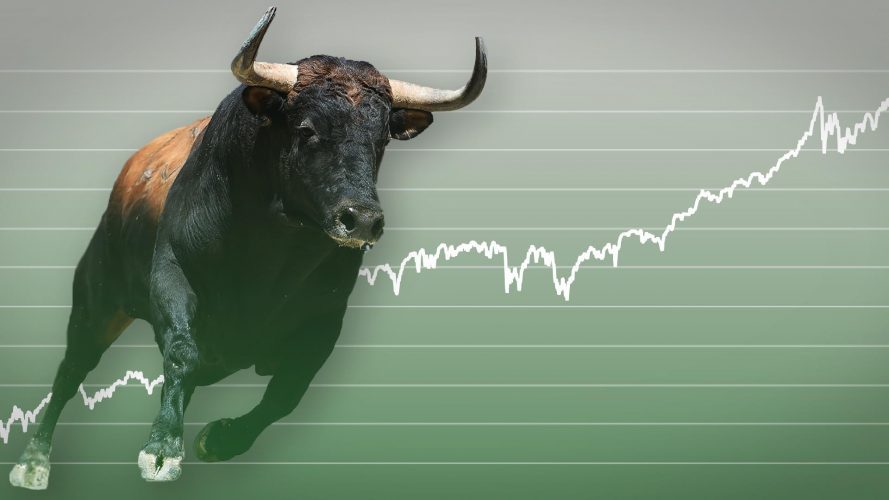 Against predictions by analysts that the equities market would succumb to profit-taking pressure on Thursday, the bullish outlook of the market again played out on the day's activities as investors recouped fresh N50 billion gain.
The earlier prediction followed an initial gain of N134 billion recorded on Wednesday when the market surmounted the bears' pressure to rebound in green.
As the market appreciated by 0.38 per cent on Thursday, the All-Share Index (ASI) added 95.97 points to close at 25,236.97 basis points.
Market valuation of equities investment at the Nigerian bourse followed suit to close higher N13.165 trillion from N13.115 it closed the previous session.
This record was achieved amidst a market breadth that favoured the bears as 18 decliners dominated the market against 15 advancers while 14 other stocks that traded during the session felt no demand-supply pressure, making them to close on flat prices.
The turnover for the session was however mixed as traded volume improved by 25.97 per cent while value of trade plunged by 56.19 per cent relative to the previous session, indicative of investors' appetite for low-price stocks.
The gainers chart was led by Nigerian Breweries, gaining N2 to close at N36. MTN Nigeria and Unilever trailed with N1 gain each to close at N119.5 and N13 respectively.
Other gainers on the list include Stanbic and Flourmill, gaining N0.80 and N0.45 to close the session at N33.80 and N19.85 per share in that order.
Conversely, BUACEMENT, Ikeja Hotel and NEIMETH shed N0.10 each to close the day N38.60, N0.91 and N1.91 per share respectively while Champion and Sterling Bank both lost N0.07 and N0.05 in share prices to close at N0.71 and N1.15.
The turnover for the session was inflated mostly by the shares of ZenithBank N429.954 million as the value of traded 25.650 million shares. GUARANTY followed by trading 12.533 million shares worth N311.022 while MTN Nigeria pushed 1.272 million shares valued at N152.225 million.
In terms of volume, Transcorp traded 105.499 million shares worth N61.392 as the most active securities throughout the session, followed by ZenithBank. Chams Plc trailed with 22.937 million share units worth N4.827 million.
At the close of the day, investors at the Nigerian Stock Exchange (NSE) traded a total of 258.082 million shares worth N1.678 billion in 3,640 trades compared to 204.878 million shares valued at N3.83 billion that exchanged hands in 3,636 deals in the previous session.