$100bn Needed to Fix Infrastructure in Nigeria – Akabueze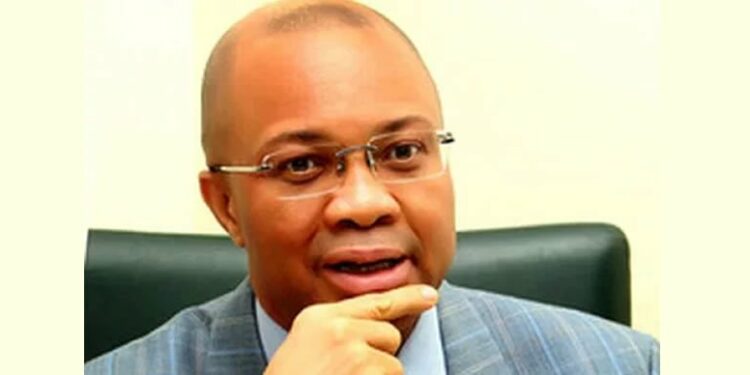 Director-General, Budget Office of the Federation, Mr. Ben Akabueze has said that Nigeria needs an average of 100 billion dollars to meet its need for infrastructure.
Akabueze gave the figure while delivering a lecture at the ongoing induction ceremony for national assembly members-elect on Wednesday in Abuja.
He said: "For us to be able to fix the infrastructural needs of the country, we need to be spending about 100 billion dollars annually as a country, including private spending on infrastructure. The aggregate budget of the Federal government is only about 30 billion dollars and the aggregate of the states and FCT budget don't even add up to the federal budget. This means that even if we spend everything, we will still be left with a huge infrastructural deficit.
"Each country has to determine the budget system that works for it. The budget is multi-dimensional in coverage. One, it is political because it allocates scarce resources of the country among multiple competing and sometimes, competing interests. It is also an economic document because it helps as the primary fiscal instrument for stimulating economic growth, ensuring employment, and maintaining economic stability. It is an accounting document that provides a ceilings and is legally binding for government to operate. It is also a moral document. You can know what a country cherishes by looking at its budget document.
"The federal government of Nigeria does not have an organic budget law. It is really unfortunate that we don't have an organic budget law. Hopefully, there is one in the work in the 9th Assembly and may be passed before the Assembly winds up. I don't know any serious country in the world that does not have an organic budget law."
He deflated the submission that Nigeria was an oil-rich country.
"We are not even an oil-rich economy. To classify oil-rich economies, you talk of countries like Saudi Arabia where they are 34 million of them and pump 10 million barrels of crude per day or Kuwait where there are 3 million of them and pump 3 million barrel per day. There are over 200 million of us and we are currently pumping about 1.9 million barrels per day. So, we are not a rich economy and must resist the temptation we are an oil rich economy. Let me make it clear that we are a potentially rich country but we are not.
"I often hear people say that Nigeria is not short of development plan but that the problem is implementation and I disagree because a plan that cannot speak to implementation is not a good plan. Development plan in Nigeria dates back to the early 90s but you can argue that it has not been successful in the desirable manner. Annual budget are essentially back sizes of development plans. They contain achievable objectives within a year. A budget that seats outside the development plan is not a good budget", he said.
The DG also attributed the fierce battle for limited resources in Africa to the size of the countries' budget.
He urged the members-elect to balance the national, regional and constituency interests on their constituency projects.
"You may have heard that we have one of the lowest GDP to debt ratios in the world. While the size of the FG budget for 2023 created some excitement, the aggregate budget of all government in the country amount to about 30 trillion naira. That is less than 15 percent in terms of ratio to GDP. Even on the African continent, the ration of spending is about 20 percent. South Africa is about 30 percent, Morocco is about 40 percent and at 15 percent, that is too small for our needs. That is why there is a fierce competition for limited resources. That can determine how much we can relatively borrow. We now have very limited borrowing space, not because out debt to GDP is high, but because our revenue is too small to sustain the size of our debt. That explains our high debt service ratio. Once a country's debt service ratio exceed 30 percent, that country is in trouble and we are pushing towards 100 percent and that tells you how much trouble we are in. We have limited space to borrow. When you take how much you can generate in terms of revenue and what you can reasonably borrow, that establishes the size of the budget. The next thing would be to pay attention to government priority regarding what project gets what.
"The budget is not a shopping list. In the last the budget only contained expenditure but we have changed that.
"Members have to balance national and regional interest. As it is right now, we have a practically implementable budget. Every year, we have over 20,000 abandoned projects because they are not properly monitored. That is why the number or abandoned projects kept increasing every year. That is why I talked about balancing national, regional and constituency interest, today, our national health care policy requires that if we have 10,000 functional primary health care centres, 70 percent of our healthcare needs would have been met.
But today, we have nearly 40,000 physical structures called primary health care centres. A large number of these comes through constituency projects. In one constituency, you may have one primary health care center built by a member and the instead of equipping it and making it functional, the other member coming in built another structure and the community end up having two structures that are useless to them. So, we need to streamline these things in the national interest.
"Today, we are scored low in the budget credibility index and this is measured between what is contained in the budget and what is actually implemented", Akabueze said.