Sell-offs in BUACEMENT underpin N54bn loss as equities open week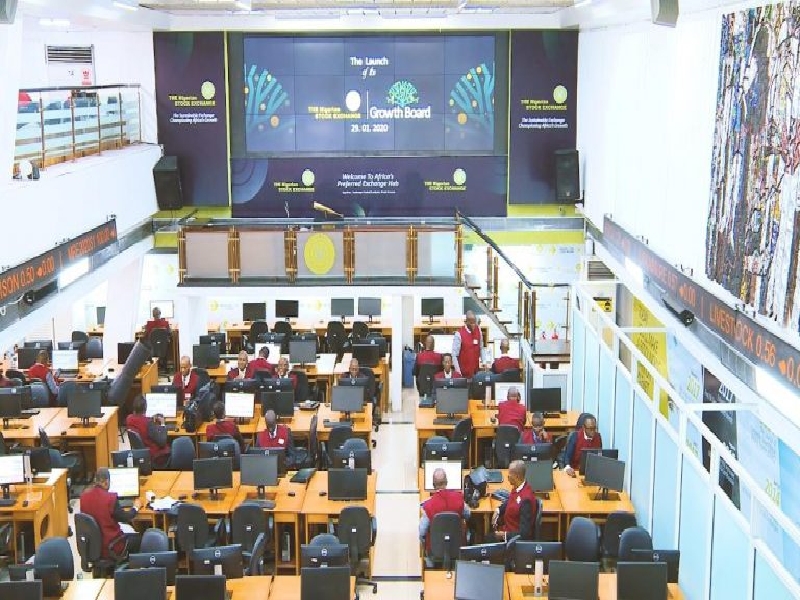 Sell-offs in BUACEMENT underpin N54bn loss as equities opens week
---
The Nigerian equities market started the week's trading on a negative note as sell-offs in the shares of BUA Cement that lost -2.8 per cent underpinned a 0.27 per cent  in the aggregate value of the market.
Consequently, the All-Share Index (ASI) of the domestic bourse shed 103.41 points to close lower at 38,545.30 basis points from 38,648.71 index points it opened the session.
Similarly, aggregate value of equities investments in the mark shed N54 billion to close lower at N20.089 trillion. Accordingly, Month-to-Date (MtD) gain moderated to +0.3 per cent, while Year-to-Date (YtD) loss increased to -4.3 per cent.
The total volume of trades decreased by 5.2 per cent to 209.21 million units, valued at N1.76 billion, and exchanged in 3,390 deals.
ACCESS was the most traded stock by volume at 22.72 million units, while ZENITHBANK was the most traded stock by value at N384.58 million.
Analysing by sectors, the Industrial Goods (-1.2 per cent), Insurance (-1.1 per cent) and Oil & Gas (-0.1 per cent) indices declined while the Banking (+0.1 per cent) and Consumer Goods (+0.1 per cent) indices recorded gains.
As measured by market breadth, market sentiment was positive (1.1x), as 18 tickers gained relative to 16 losers.
MEYER gained 8.8 per cent and CHAMPION appreciated by 6.1 per cent to top the gainers' list, while FIDSON and LASACO Insurance shed -9.8 per cent and -9.3 per cent respectively to post the most significant losses of the day.
Currency
In the currency market, the naira depreciated at the I&E window and parallel market by 0.2 per cent to N411.67/USD and 0.4 per cent to N500.00, respectively.
Money Market & Fixed Income
The overnight lending rate contracted by 25 basis points or 19 per cent in the absence of significant funding pressure on the system.
The Nigeria Treasury Bills (NTB) secondary market was mixed, as the average yield closed flat at 6.4 per cent. Elsewhere, the average yield at the OMO segment pared by 1bp to 9.7 per cent.
Meanwhile, trading in the Treasury bond secondary market was bullish, as the average yield contracted by 7bps to 11.9 per cent.
Across the benchmark curve, average yield contracted at the mid (-8bps) and long (-12bps) segments following demand for the FEB-2028 (-26bps) and MAR-2036 (-34bps) bonds; the average yield was flat at the short end.