PIAFo Rallies Stakeholders to Dissect Pending NITDA Bill April 13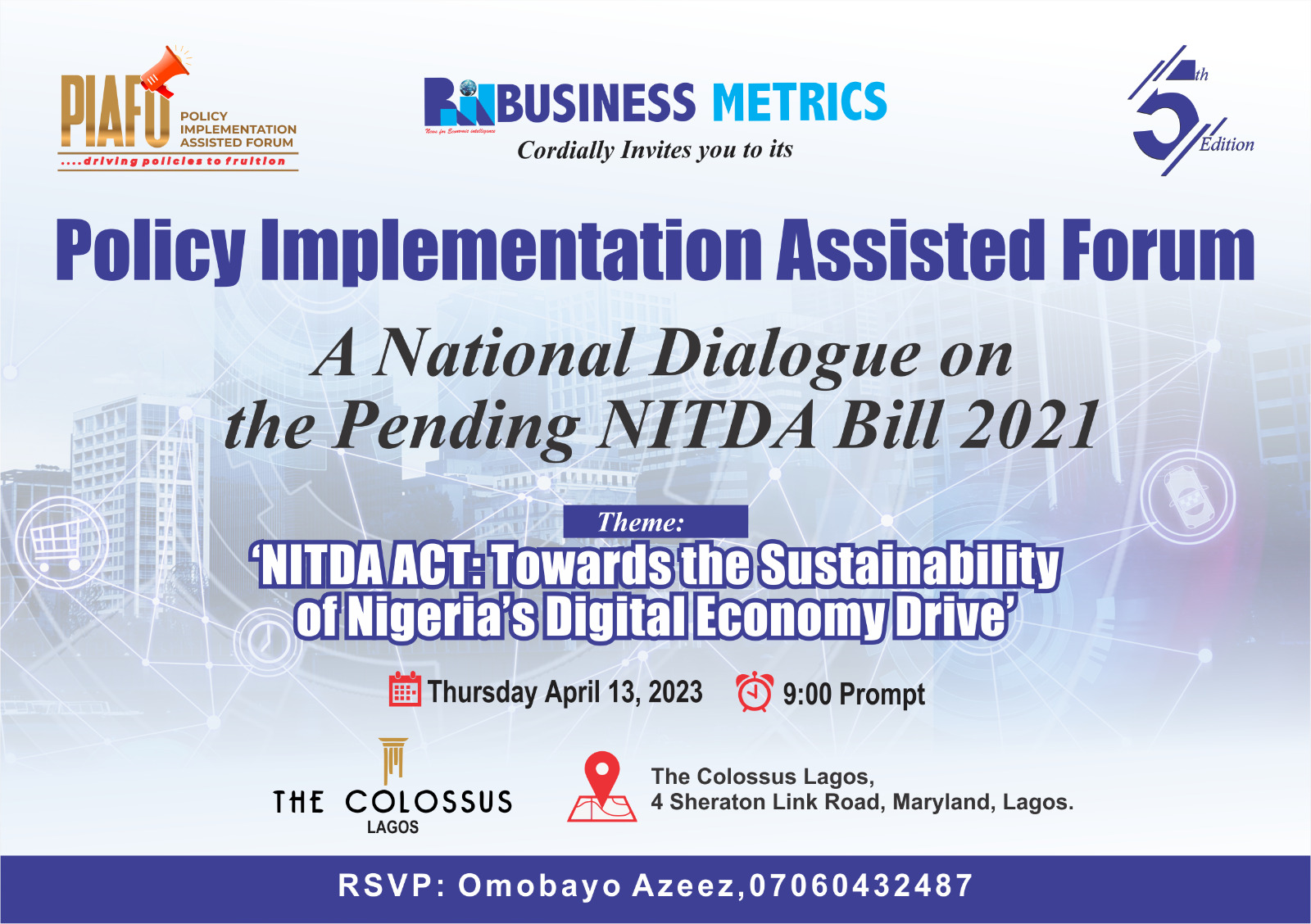 Organisers of the fast-growing Policy Implementation Assisted Forum (PIAFo), have dedicated the next edition of the event to robust engagement on the pending amendment bill of the National Information Technology Development Agency Act, NITDA Bill 2021.
The event, now in its fifth edition, is slated for Thursday April 13, 2023 at The Colossus Lagos, 4 Sheraton Link Rd, Maryland, Lagos, with the theme: "NITDA BILL: Towards the Sustainability of Nigeria's Digital Economy Drive".
The National Information Technology Development Agency was established in 2007 by the NITDA Act while the NITDA Bill 2021, now pending at the National Assembly, seeks to repeal and re-enact the NITDA Act of 2007.
NITDA is a key agency of the federal government under the Federal Ministry of Communications and Digital Economy, developing and promoting ICT adoption in the country.
While Nigeria's digital economy is estimated to have attracted over $4.4 billion investment in the last four years, organisers of PIAFo said the event has been designed to boost investments in the space and increase digital deliverables for Nigerians through productive stakeholder consultations to engender an environment for the sustainability of the digital economy drive.
PIAFo, an initiative of Business Metrics Nigeria, has been at the forefront of policy advocacy, policy implementation and policy assessment, especially in the ICT and telecoms sector, as it puts premiums on dialogue for socio-economic prosperity.
Speaking on the event, PIAFo Lead Executive, Omobayo Azeez, said "Nigeria's digital economy has become a collective project for players across sectors in the public and private spheres. The ICT is a lifeline for the economy and this has been proven time and again through its contribution to the Gross Domestic Product (GDP), among other benefits.
"In the last quarter of 2022, the sector contributed 16.22% to the GDP, rising from 15.35% in third quarter of the year. In fact, in the preceding Q2 of 2022, total ICT contribution to GDP was higher at 18.94%."
Azeez, who doubles as Editor of Business Metrics Nigeria, further said that as the NITDA Bill 2021 proposes certain changes in a view to align with the ever-changing ICT sector, the need for robust consultative engagements with relevant stakeholders is imperative to ensure its seamless implementation and ensure efforts from all ends are integrated for the sustainability of the country's digital economy drive.
"So, we have designed this forum as an avenue for constructive dialogue for concerned government agencies, players in the ICT and telecoms sector, legal experts and Civil Society Organisations (CSOs) in the country.
"The event is planned to be a full-day engaging discussion after which a detailed report shall be issued to reflect aggregate views expressed by discussants with their recommendations in the interest of growing our digital economy," he added.