Equities bullish with N213bn gain as investors trade N11.5bn shares
---
It was yet another day for equity investors in Nigeria to smile all the way to the bank as the domestic equities market maintained gaining streak.
The All-Share Index (ASI) notched a 1.03 per cent gain to close at 39,512.39 basis points on Wednesday.
This is equivalent to N213 billion profit for investors and as such, market capitalization of the equity market hit N20.66 trillion to close the session, higher than N20.447 trillion it closed the previous session.
Meanwhile, the positive performance was supported strongly by interests in BUACEMENT (+10.0 per cent), INTBREW (+10.0 per cent) and FBNH (+1.4 per cent). Accordingly, Month-to-Date (MtD) and Year-to-Date (YtD) gain increased to +12.8 per cent and +47.2 per cent, respectively.
In terms of sectoral performance, the Industrial Goods, insurance and consumer goods indices appreciated by 3.7 per cent, 3.0 per cent and 0.4 per cent respectively; while the banking and oil & gas indices dipped by 0.7 per cent and 0.4 per cent in that order.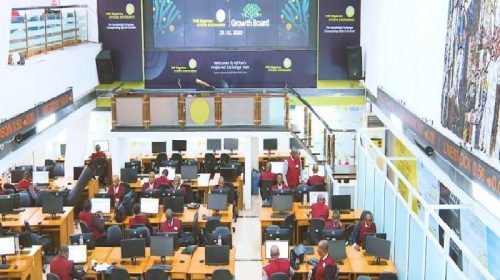 Performance level was however mixed with total volumes of trade declining by 48.39 per cent at 372.93 million while traded volume swelled up significantly by 162.43 per cent at N11.503 billion in 5,186 transactions.
Market sentiment, as measured by market breadth, was positive as 23 tickers gained, relative to 19 losers.
TOP Gainers
BUACEMENT gained N6.4o to close at N70.40 per share
INTBREW gained N0.59 to close at N6.49 per share
ETERNA gained N0.51 to close at N5.61 per share
CILeasing gained N0.42 to close at N4.73 per share
NEM gained N0.14 to close at N1.63 per share
Top Decliners
FLOURMILL shed N1.50 to close at N26 per share
UBN trailed with N0.30 to close at N5.30 per share
Guinness lost N0.30 to close at N19 per share
GUARANTY lost N0.2 to close at N32.5 per share
ACCESS shed N0.20 to close at N8.75 per share
Turnover Movers
Dangote Cement traded 33.166 million shares at N8.041 billion in 432 trades
Zenith Bank traded 27.542 million shares vakued at N690.852 in 485 deals
United Bank for Africa moved 60.57 million share worth N524.734 million in 304 transactions