What Osinbajo's Declaration Means For Tinubu, APC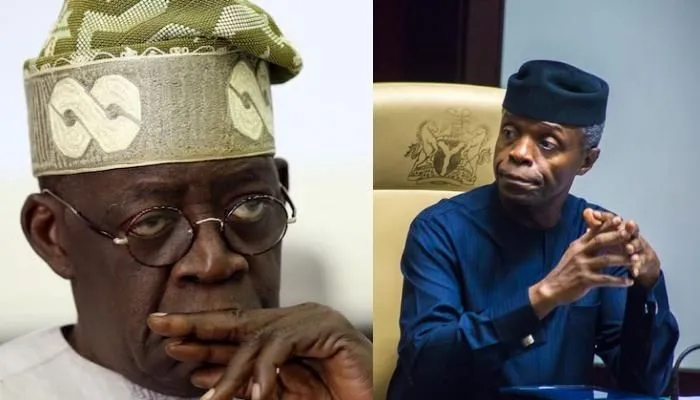 After months of pontifications in the North, speculations in South and permutations in the East about his presidential ambition, Vice president Yemi Osinbajo waited for his fruit to ripe before eating to avoid telling a story of toothache. On Monday, April 11, Like a magician trying to unveil his new trick to an anxious audience, Osinbajo stepped on a silhouette-background podium to deliver a rhetorical speech that laid the postulations and uncertainty surrounding his presidential aspiration to rest.
This was done after his strategically planned meeting with the governors under the aegis of Progressive Governors Forum. As expected, his declaration has unsettled the mainstream and social media as politically naive citizens and political analysts dished out commentaries on the new twist in the political game.
What has, however, dominated the court of public opinion over Osinbajo's declaration is the ripple effect it will have on both the political fortune of his adjudged 'political father' and national leader of the party, Bola Ahmed Tinubu and the subsequent relationship between the 'father and son'.
Meanwhile, in an obvious tactical move, Bola Ahmed Tinubu met with the same Progressive Governors Forum immediately after their meeting with Yemi Osinbajo. This, according to many political observers, is a deliberate effort by Bola Tinubu to cement his position as "piper" who dictates the tunes of the APC governors.
After the meeting, a reporter threw a seemingly mischievous question to the APC national leader, informing him that his 'son' had declared his intention to also contest the top job in the same party with him. "I don't have a son grown enough to declare", Bola Tinubu threw the jab back at the reporter. This, has caused another round of media sensationalism, positing that Tinubu has denied his 'political son'.
As the event continues to unfold, what exactly does Yemi Osinbajo's declaration mean for Tinubu and APC? To answer this question contextually, a background analysis is imperative. Read on.
Background
Prior to the 2015 presidential election, Bola Tinubu who was one of the major players of the historic coalition that wrestled power from the hands of PDP was to be the running mate of Muhammadu Buhari. However, the muslim-muslim ticket proposal was dead on arrival as there was a need to placate the Christian dominations in Nigeria to avert religious rancor.
Sacrificing such a juicy position, Bola Tinubu was bidded to search his political wardrobe and table any Christian protege. Yemi Osinbajo, a leading pastor of RCCG who served as Attorney General of Bola Tinubu during his tenure as Lagos State governor came in handy.
Since then till April 11, 2022, the relationship between the 'father and son' had reportedly been an enviable one. Bola Tinubu who declared for the presidency in January 2022 was expected to ride to victory in the primary election seamlessly as there seem to be no major contender to serve as hindrance.
Now, the only nemesis of Bola Tinubu happens to be his political protege whom he brought to political stardom, Yemi Osinbajo. Initially, speculation had been rife that the Vice President wouldn't want to be a contender against Bola Tinubu, that speculation however went down the drain after the declaration of Yemi Osinbajo. Now, the die is cast and the battle line is drawn.
What Osinbajo's declaration means for Tinubu and APC
Being the number two citizen in the country, Yemi Osinbajo has been exploiting his political power to corner major politicians in APC, lobbying them to support his presidential ambition. Before his declaration on April 11, he summoned all governors under the umbrella of APC and all answered his call, except Yahaya Bello of Kogi State who is also running for president under the umbrella of APC. Meanwhile, another meeting with the APC Senate caucus was held in Aso Villa on Tuesday. This obviously was to tell Tinubu supporters that he is unruffled by allegations of betrayal against his boss.
What Osinbajo's declaration means for Tinubu is the hassle of getting the APC ticket on a platter of gold. Yemi has been loyal to Buhari since inception of the administration, and reports have it that Yemi Osinbajo might be the preferred candidate of Muhammadu Buhari who had decided to keep it private to avert heating up the polity. All Osinbajo needs is Buhari's influence to swing the support of northern hegemony in his favour. However, this won't be a walk in the pack either as Bola Tinubu has established a strong foothold in the North. Major politicians in the North have thrown their weight behind Bola Tinubu, a 'pay-back time' gesture for his sacrifice to their kinsman.
And as for what it means for APC, considering the shambolic outcome of their National Convention in March, the ruling party has got a lot on its sleeves not to fall into the abyss of internal disintegration before the 2023 election. A level playing ground for all aspirants should be sacrosanct. And if there's truly a crack in the wall regarding Yemi Osinbajo and Bola Tinubu relationship, APC has to placate these two political heavyweights to let internal democracy prevail.
In addition, I believe the declaration of Yemi Osinbajo is good for our democracy. The people should be given enough options to choose from and if truly Bola Tinubu is a democrat as claimed, he wouldn't want to short-live this with personal ambition.
Like many people opined, the more the merrier.