Large-cap stocks lift Nigerian stock market by N245bn
---
Share trading on the floor of the Nigerian Exchange Limited was broadly positive this week as the bulls dominated in four of the five trading days supported by bargain hunting in large-cap stocks.
As a result, the All-Share Index that tracks share price movements in the market edged up by 1.23 per cent as it gained 469.15 points to close the week at 38,726.10 basis points.
The changes in market metrics amounted to N245 billion profit for equities investors in the country. This drove market CAP higher to surpass N20 trillion mark at N20.185 trillion from N19.940 trillion it closed last week.
Notably, bargain hunting in large-cap stocks such as Dangote Cement, Bua Cement, MTN Nigeria and Guarranty that advanced by 3.5 per cent, 2.8 per cent, 2.6 per cent and 2.3 per cent respectively buoyed the positive performance.
Consequently, month-to-date (MtD) return turned positive (+0.7 per cent), while the year-to-date (YtD) loss moderated to -3.8 per cent.
Also, the overall activity level was relatively stronger, as trading volume and value rose by 4.3 per cent and 0.8 per cent, respectively.
Performance across sectors was mixed, with the industrial and insurance indices recording gains by 2.6 per cent and 1.2 per cent, while the consumer goods and oil and gas sectors shed -0.4 per cent and -0.8 per cent accordingly. The Banking index closed flat.
Experts predict bullish days ahead
Reacting to the market performance, Investdata analysts forecast that the bulls will hold the market longer, given that trading is turning positive so early in the month of June, with renewed buying interests ahead of economic data, qualification and mark down dates, especially the March financial year-end accounts expected to hit the market any moment from now.
"It is important to note at this point that should the bull successfully push the market above its May 19, 2021 position (38,446.09 basis points), it is an indication that the uptrend will continue.
"Technically, in a recovery market, when new resistance becomes support such as the trend is revealing, the best trading strategy is to target very low returns from every position," said Ambrose Omordion, the chief executive officer of the firm.
He urged traders to focus on value areas, using technical tools to identify resistance and support levels of any position taking at this point.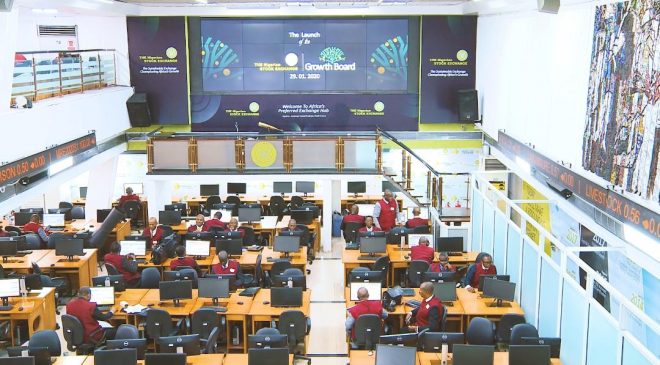 In their weekly insight on market performance, analysts at Cordros Capital Limited said in the week ahead, they expect alpha-seeking investors to continue rotating their portfolio towards equities amid moderation in the uptick of yields in the fixed income (FI) market.
"We expect market performance to be dominated by the bulls, as positioning by early birds in dividend-paying stocks ahead of H1-2021 dividend declarations should outweigh profit-taking activities.
"We reiterate the need for positioning in only fundamentally sound stocks as the weak macro environment remains a significant headwind for corporate earnings," they explained in an email note to Business Metrics.
Trading Figures
During the week under review, investors staked N9.548 billion on a total turnover of 1.082 billion shares in 17,933 deals, in contrast to a total of 1.037 billion shares valued at N9.471 billion that exchanged hands last week in 17,577 deals.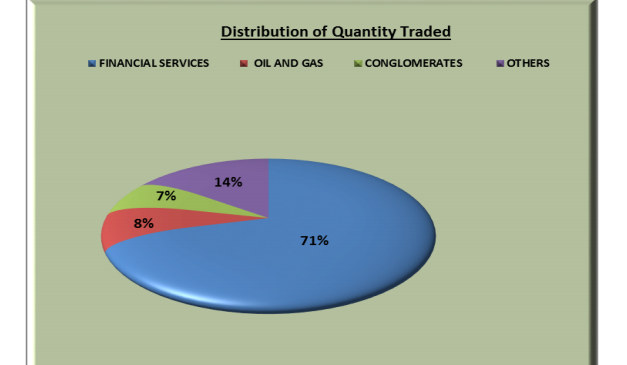 In terms of volume, the financial services industry led the activity chart with 767.001 million shares valued at N4.356 billion traded in 9,447 deals; thus contributing 70.86 per cent and 45.63 per cent to the total equity turnover volume and value respectively.
The oil and gas industry followed with 83.528 million shares worth N1.454 billion in 1,118 deals while the third place was conglomerates industry, with a turnover of 72.813 million shares worth N356.723 million in 781 deals.
Measured by volume, trading in the top three equities namely Sovereign Trust Insurance Plc, Zenith Bank Plc and Veritas Kapital Assurance Plc accounted for 235.953 million shares worth N1.820 billion in 1,654 deals, contributing 21.8 per cent and 19.07 per cent to the total equity turnover volume and value respectively.
Investors traded a total of 706 units of Exchange Traded Products (ETPs) valued at N5.127 million were traded this week in six deals compared with a total of 1,415 units valued at N1.478 million transacted the previous week in 11 deals.
This is as they also staked N96.346 million on a total of 91,560 units of bond in 30 transactions relative to 46,252 units valued at N48.472 million transacted last week in 44 deals.