CBN Declares Heritage Bank as Best Supporting Bank with ABP Information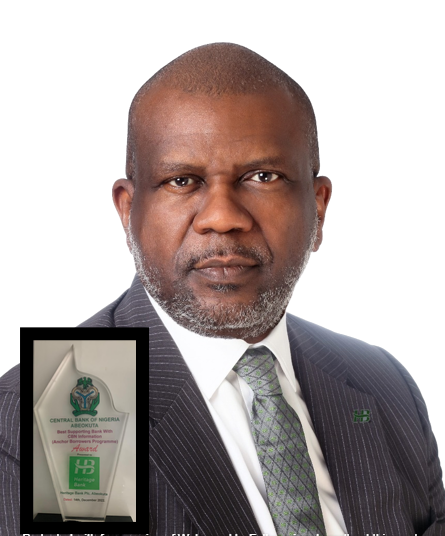 Heritage Bank Plc has emerged as the first financial institution in Nigeria to win the "Best Supporting Bank with Central Bank of Nigeria's Information on Anchor Borrowers' Programme (ABP)."
The apex bank recently awarded Heritage Bank at the Bankers' Award Night organized and held by the CBN Bankers' Committee in Abeokuta for its robust publications of information in the media space on the several feats around the ABP.
The apex bank also noted that Heritage Bank has continued to be a key financial partner that is creating economic linkages with small farmers and reputable large-scale processors, with a view of increasing agricultural output and significantly improving the capacity utilization of processors.
Commenting on the recognition, Managing Director of the Bank, Akinola George-Taylor said, "The award reflects our strong business fundamentals, resilience, and commitment to transforming Nigeria's agricultural value-chain. With the support of the bank, we have helped farmers boost the production of commodities and stabilize inputs supply to agro processors which has helped in addressing the country's food insecurity.
"As a strategic partner that is complementing the efforts of CBN and other stakeholders in the agric sector, we have continued to communicate the broad objectives of ABP.
"The bank has focused on increasing finance to the agricultural sector, the creation of new generations of farmers/entrepreneurs, and growing employment rates. This has led to the reduction of agricultural commodity importation and conservation of external reserves, and the assistance of rural smallholder farmers to grow to commercial production levels, amongst others."
In a statement available to Business Metrics on Sunday, Heritage Bank said it remained the pioneer Bank in financing the first ever large-scale rain-fed wheat production in Nigeria and is a prominent participating financial institution (PFI) under CBN's ABP scheme. Heritage Bank Plc in partnership with CBN has also disbursed N41billion to farmers from 14 states for the expansion of wheat production.