Bulls recover N8bn for equities investors in midweek trading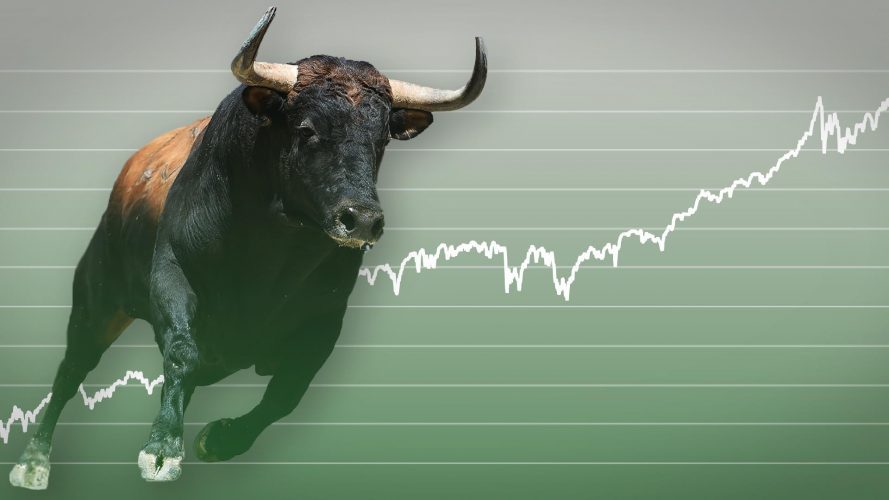 Bulls recover N8bn for equities investors in midweek trading
---
Return of the bulls to the floor of Nigerian equities market on Wednesday recovered N8 billion profit for investors from  the loss it made on Tuesday.
The green close of the midweek trading session was bouyed by buying interests in the shares of  MTN Nigeria, Total Energies and First Bank Holding that appreciated in prices by  +0.6 pee cent, +6.1 per cent and +0.7 per cent.
The benchmark index therefore rose 0.04 per cent to 37,872.55 absolute points, and the market year to date loss remained unchanged at 6.0 per cent, while market capitalisation rose to N19.73 trillion from N19.72 trillion the previous session.
However, the level of market trading activities was mixed as the volume traded fell by 2 basis points to 197.2 million units while the total value traded rose by 11.4 per cent to N2.1 billion.
According to trading stats from the NGX, the most traded stocks by volume were UBA (35.9m units), Access Bank (28.6m units), and Zenith Bank (17.6m units), while Zenith Bank (N424.7m), MTN Nigeria (N332.9m), and Guaranty Trust Company (N304.5m) led by value.
Across the various sectors, the performance was mixed as 2 indices gained, 2 lost, while the industrial and consumer goods indices closed flat. The oil & gas and ICT indices gained 0.6 per cent and 0.4 per cent, respectively, on the back of buying interest in Total Energies (+6.1%) and MTN Nigeria (+0.6%). Conversely, the banking and insurance indices dipped by 0.9 per cent and 0.3 per cent, respectively, due to selling pressure on Zenith Bank (-1.2%), Access Bank (-2.2%), and Linkage Assurance (-5.4%).
As majorly determined by the breadth of the market, investors' sentiment strengthened to 1.5x from 1.2x recorded in the last trading session as 17 stocks gained while 11 stocks lost. Capital Hotel (+10.0%), NCR (+9.9%), and Unity Bank (+6.8%) led gainers while Linkage Assurance (-5.4%), Cornerstone Assurance (-5.4%) and Oando Plc (-4.1%) led decliners.
At the close of the day, the NGX 30 Index marginally increased by 0.004 per cent to close at 1,613.85 points from 1,613.78 points recorded on the previous day. Market turnover closed with a traded volume of 124.62 million units. Total and Fidelity were the key gainers, while Access and Sterling were the key losers.