AfDB Appoints Simon Mizrahi Vice President for Technology and Corporate Services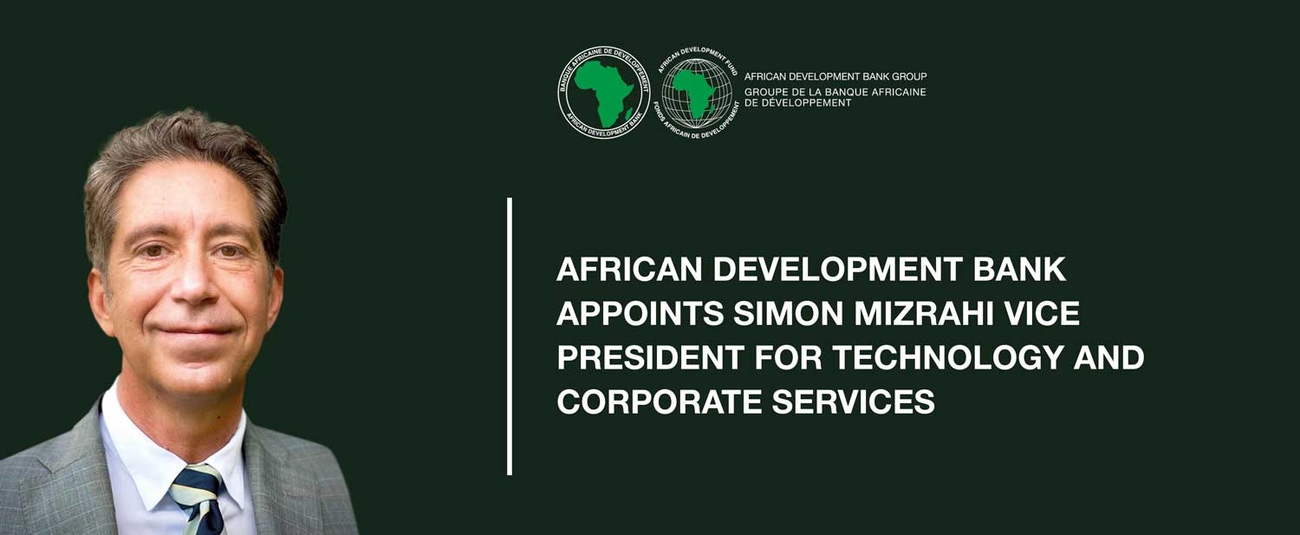 The African Development Bank (AfDB) has appointed Simon Mizrahi, a British national, Vice President for its Technology and Corporate Services Complex, with effect from the 1st of April 2023.
Before his new appointment, Mizrahi served as Acting Vice President for the complex, doubling as Director for the Bank's Development Impact and Results Department.
He is a seasoned senior executive with more than thirty years of experience in exercising strategic leadership on development operations and policies.
His AfDB voyage
Since joining the AfDB Mizrahi has acquired an in-depth understanding of the institution's business needs, its operating environment, and its corporate governance.
He also has extensive experience leading complex corporate reforms. In 2019, Mizrahi played a key role in the Bank's proposal for a seventh general capital increase, which produced $115 billion in additional capital—the largest increase in its history.
The same year, he elaborated the Bank's Quality Assurance Plan and established the Operations Academy, the institution's first formal program to train operational staff as a means of improving the quality and impact of Bank operations.
Mizrahi is also responsible for promoting transparency and accountability across the African Development Bank. In 2022, Publish What You Fund, the global campaign for aid and development transparency, named the African Development Bank the most transparent development organisation in the world. It ranked its Sovereign Portfolio first out of 50 global development institutions in its Aid Transparency Index with a top score of 98.5.
Prior to the AfDB
Before joining the African Development Bank, Mizrahi worked at the Organisation for Economic Co-operation and Development as Deputy Head for Aid Effectiveness. He authored the Paris Declaration on Aid Effectiveness and the Accra Agenda for Action, two landmark agreements adopted by 110 countries and organizations across the world. Before this, he was a country director for Médecins du Monde in Rwanda and Nicaragua, from 1994 to 1996.
Mizrahi has a deep, first- hand understanding of Africa's development challenges. He has operated in eight African countries, and in 1994, was Head of Operations for Urgence Rwanda, a coalition of non-governmental organizations that delivered humanitarian assistance to Rwanda and Goma in the Democratic Republic of Congo, in the immediate aftermath of the genocide.
Mizrahi began his professional career in the financial industry in London. Throughout his career, he has demonstrated a strong capacity for thought leadership, strategic decision-making, and delivery of bottom-line results. He has published extensively on issues central to the development agenda, especially development impact, climate change, corporate performance, and development effectiveness.
Mizrahi holds a Master of Philosophy degree in politics and international relations from the University of Cambridge (1991) and a master's degree in political science from the Institut d'Études Politiques de Paris (1990).
Remarks
Commenting on his appointment, Mizrahi said: "I am deeply honored that Dr Adesina has appointed me to this position. I see it as an extraordinary opportunity to contribute to the African Development Bank's corporate priorities and promote Africa's premier development organization."
Dr. Akinwumi A. Adesina, President of the African Development Bank Group, said: "I am pleased to appoint Mr. Simon Mizrahi into this new role of Vice President for Technology and Corporate Services Complex, where he will lead the drive to fully digitalize the Bank and deploy big data analytics, robotics, machine learning, and other IT tools.
"He will drive the Bank's Real Estate Strategy and oversee the formulation and implementation of its policies and controls on asset management and information technology systems. Simon will also ensure effective and sustained delivery of corporate services, including institutional procurement, language services, cybersecurity, and business continuity."