Kashif Inuwa Abdullahi: Nigeria's ICT Troubleshooter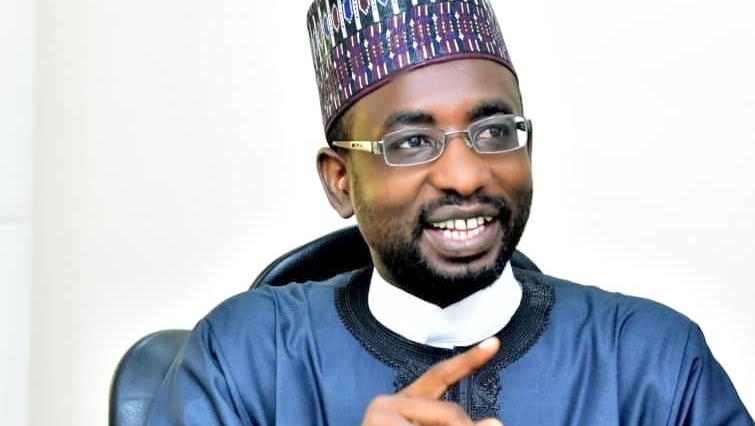 By Mohammed Saleh Manzo
When it comes to card game, the best is selected. As the cliché goes, "If you want to go fast go alone. But if you want to go far go together." Mallam Kashif Inuwa Abdullahi (CCIE) – the Director-General of National Information Technology Development Agency (NITDA), is a hard-nosed technocrat. A young man full of positive youthful exuberance. He is the J.F. Kennedy of our time; he leads effortlessly.
His encompassing quality of leadership makes NITDA work in unison. He carries everyone along. He is a quintessential example of modesty. His uniting ability makes the NITDA staff work in team as compatible partners. We are very happy with his accommodating skills. His zeal for human development is evident as he sends his staff members periodically on skill development seminars, conferences and training workshops. His seemingly timid and reserved appearance doesn't hinder him from been responsive and resolutionist.
As he is now clocking 40, Abdullahi is at the apex of his youthfulness, and so his outstanding ideas. He is a fast-tracker and result-oriented person. The unusual rapidity, with which NITDA is progressing, indicates his zeal and total commitment to national development. Different initiatives invented by Abdullahi at NITDA, drive home numerous advantages to the citizenry. Though the whole world is tested with pandemic Covid–19, amidst this intolerant condition, Abdullahi has done a miracle. As he said during the execution of 11 projects virtually, "The chairman sir, will it amaze you if I tell you these 11 projects we are commissioning today, most of them were conceptualized and executed within a year. This is the 2nd batch. We have done the 1st batch. And we have more line up coming for commissioning."
Abdullahi is such an unbiased Nigerian. He is a bitter enemy to nepotism and favoritism. He hates bigotry of any kind. H is tolerant to corruption. He always supports freedom and welfare of his staff. That is why (behind his back) we refer to him as, "The Mandela of the 21st century." This legend with legendary qualities deserves whatever position in this county. It is obvious he is capable. He measures up to the yardstick used to gauge a leader.
These are some of the achievements made from the day one Mr. Abdullahi assumed duty as the DG of NITDA from August 2019 to July 2020. Under Data Protection and Job Creation programmes (DPCOs),  about 700 new job roles have been created for Data Protection Officers, IT consultants, lawyers, business people etc. And it's still an ongoing programme. About 128 Certificates of Indigenous IT Companies, contractors and original equipment manufacturers (OEMs) were processed. NITDA also issued 68 Provisional Certificates; 172 Original/Substantive Certificates were issued for various forms of registrations and trainings; PPP regulatory framework for ICT/e-Government projects were being developed and submitted.
Coordinated development of e-Government Master Plan in Jigawa State; establishment of Digital Transformation Technical Working Group (DT-TWG) across the first 100 MDA's; NITDA Adopted Village for Smart Agriculture (NAVSA) project for adoption of 145 farmers in Jigawa State; analysis of Local Content Development Plans 2018-2019 submitted by 8 multinationals;  272 user accounts were successfully created to enable MDAs submit their IT Project via the IT Projects Clearance Portal; cleared 151 unique IT Projects of 72 MDAs, with a total amount of N1,185,223,483,015.54 BN; NITDA saved the Federal Government of Nigeria a total of  N5,015,094,859.75 BN; licensed 16 additional Data Protection Compliance Organisations (DPCO) are also some of recorded achievements.
Similarly, the agency has also successfully inaugurated Data Breach Investigation Team (DBIT) and Partnership with the NPF for enforcement; etablished collaboration with Korea International Cooperation Agency (KOICA) to secure funding in special areas of NGEA/Ne-GIF implementation; continuous Review and Development of Implementation/Action Plan for Nigeria Government Enterprise Architecture (NGEA) and Nigeria e-Government Interoperability Framework (Ne-GIF); 200 women were trained on ICT and Entrepreneurship and each provided with Laptops (pre-installed e-learning & graphics Software); internet Dongles  & Bag packs; conducted Training of 20 Staff on e-Government awareness, regulations and enterprise architecture; and trained 40 Media Executives on NDPR.
As the list continues, NITDA in the course of one year of Inuwa's leadership, has also trained 36 DPCOs; facilitated Training for 375 other stakeholders from different sectors; workshop for members of the Nigeria Police Force & the NITDA NDPR implementation Committee; created 2686 jobs; trained 1000 Artisans in 4 Geo-Political Zones (North East, North West, North Central, and South West); streamlined Capacity Building Programme for Virtual Library Stakeholders:– 250 participants; Capacity Building Programme for NYSC and SIWES:– 150 participants; distributed 22 laptops, 13 tablets and other IT tools to Nigerian Students; in continuation of the Agency's efforts at IT Development as well as in its strides enhancing the capacity of citizens, while 80 DCTCs are to be deployed across the country.
Under Abdullahi's oversight also, NITDA deployed 3 Special Purpose IT Hubs in UNILAG, ABU, and FUT Minna respectively;  2000 laptops were provided to the institutions across all geopolitical zones; NITDA held an online innovation challenge titled; "Nigeria COVID-19 Innovation Challenge." Three winners were selected from the programme: 1st Prize was N1 million; 2nd Prize N750.000, and the 3rd Prize pegged at N500.000. Thus a Sum of N2.25 million was collectively given to the winners.
In the same spirit of transforming the governance processes in the country, 151 unique projects of 72 MDAs estimated at N1.2 billion Naira were completed by NITDA; about N5 billion was saved by the federal government through this process; six PhD and thirty-seven MSc scholarships have been awarded by NITDA in addition to six recipients of MSc scholarship on IT law.
In a nutshell, Abdullahi's achievements at NITDA are incalculable. All this is done under the auspice of the superman, the digital minister Dr Isa Ali Ibrahim Pantami.
Finally, with multiple IT centers built across the six geopolitical zones of this country, for start-ups incubation, coupled with different programmes and the multimillion new projects commissioned this week, everyone will jump to the conclusion that NITDA means business.