NOVA Merchant Bank's Pre-Tax Profit Hits N3.21BN as Earnings Double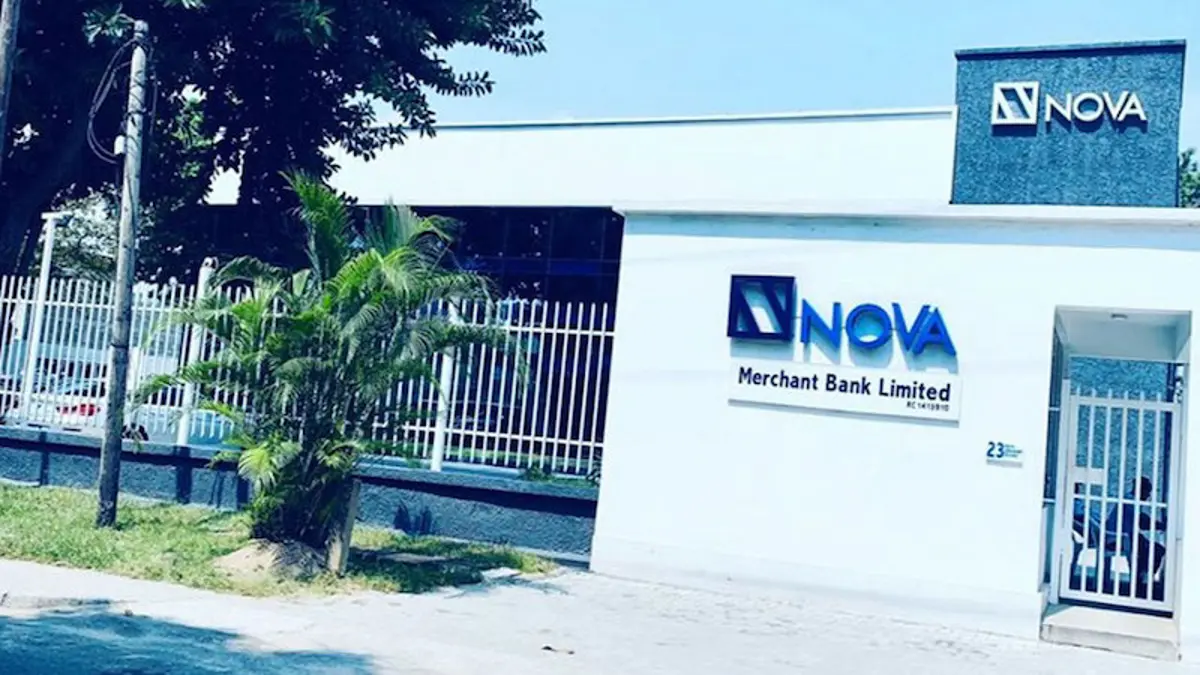 NOVA Merchant Bank Limited has announced its audited full year 2022 financial results, showing an outstanding 103per cent year-on-year growth in profit before tax.
However, the group's year-on-year profit after tax also rose by 98.2 per cent in the year under review as both funded and non-funded income grew significantly on the back of innovative offerings and exceptional customer service.
According to a statement obtained by BUSINESS METRICS, the group continues to gain market share, a reflection of its steady penetration across key growth sectors, as reflected in the 30 per cent growth in customer deposits.
The bank's profit before tax grew by 102.9 per cent to N3.21 billion, compared to N1.58 billion in 2021, while its profit after tax increased by 93.7 per cent to N3.11 billion, compared to N1.61 billion in 2021.
NOVA's asset quality remains exceptional, with non-performing loan (NPLs) ratio of 0.2 per cent, underscoring the best-in-class governance and management discipline in creating quality assets and ensuring effective risk management.
Its gross earnings also rose by 37 per cent to N23.34 billion in 2022, compared to N17.03 billion in 2021 full year. NOVA's fees and other income, however increased by 34.9 per cent to N6.70 billion, compared to N4.97 billion in 2021 full year ended.
Its cost of risk remained modest at 0.14 per cent, reinforcing outstanding asset quality.
Its balance sheet showed that the bank's total assets grew by 14.6 per cent to N279.9 billion, compared to N244.2 billion as at full year 2021.
Also, its customers' deposit rose by 30 per cent to N152.01 billion year-on-year, from N116.9 billion.
Its shareholders' funds was N26.77 billion, up by 13.1 per cent year-on-year and capital adequacy ratio at 23.24 per cent.
Commenting on the results and broader achievements of the Group, the Chairman of the Board, Mr. Phillips Oduoza said: "It's exciting that the group continues to sustain its remarkable growth trajectory since inception, leveraging on innovative offerings and customer service excellence in deepening market penetration and continuously gaining market share across all segments of the business.
"I am particularly pleased with the sound governance practice and diligence of the management in upholding the asset quality of the bank, a feat which has become a benchmark in the industry.
"Notwithstanding the challenging economic environment, the bank continues to demonstrate commitment to customers' financing objectives and supporting their overall business growth.
"In reciprocal, we continue to gain a larger share of our customers' wallets and win new clients, as reflected in the 37 per cent growth in gross earnings, buoyed by stellar performance of both funded and non-funded income.
"The strength of our balance sheet, our exceptional service, bespoke financing solutions and new thinking are uncommon qualities that continue to distinguish our bank.
"More than ever, we are optimistic on the Nigerian economy and more importantly our business, as we continue to invest in sustainable strategies that ensure the resilience of our business to varying economic cycles.
"We are dedicated to the success of our customers and would continue to support our HNI clients through their financial life cycle, including through our wealth management offerings and advisory services.
"We would remain trusted partners to our corporate clients, supporting them through our tailored offerings that optimise their financial outcomes. It is our commitment to continuously lead new thinking and unlock new opportunities for the mutual prosperity of customers and our business."
Also speaking on the results, the Managing Director/Chief Executive Officer, Mr. Nath Ude said: "In keeping to our pledge of supporting clients' growth, Nova Merchant Bank continues to create novel financing structures to meet dynamic needs of our customers across key growth sectors.
"The strong capitalisation and liquidity ratios reinforce our capacity to underwrite quality transactions, in addition to leveraging our expanded scope of offerings in delivering unique customer experience.
"I am pleased that the loyalty of our clients does not only spur our business growth; it also reinforces our earnings growth and sustainability. We achieved a 107.9 per cent growth in profit before tax and recorded notable growth across all balance sheet lines, reflecting the success of our strategy and the execution capacity of our team.
"We continue to invest in new technologies, including our robust digital platform, to create exceptional service experience for our customers. Nova Merchant Bank is a positive disruptor and would continue to lead innovation and investments in technology and risk managements practices that revolutionise financial services in Nigeria, as we remain focused on unlocking new opportunities for our esteemed clients.
"We would sustainably deliver exceptional service to our customers, as we create superior value for all stakeholders.