Nigeria Not a Country of Fraudsters or Drud Dealers – Abike Dabiri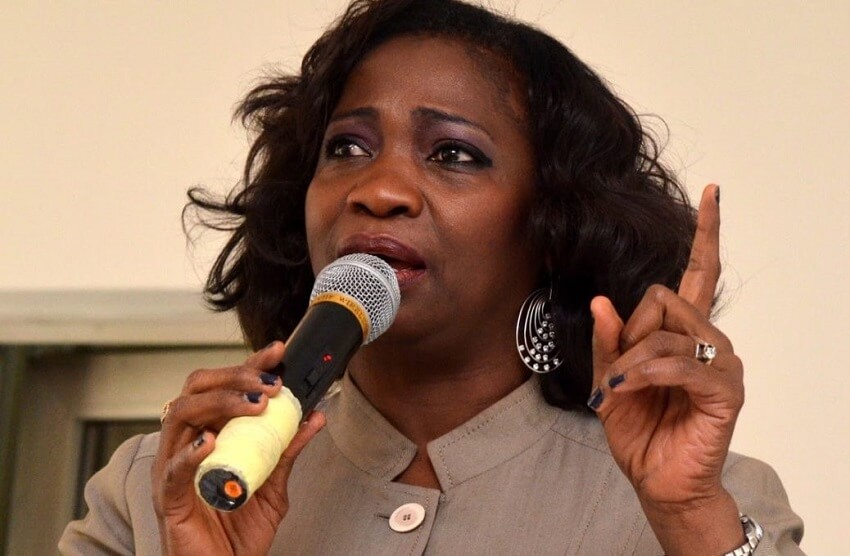 By Christy Animam
---
Hon. Abike Dabiri-Erewa, Chairman/CEO, Nigerians in Diaspora Commission (NiDCOM), has commended reiterated that Nigeria is neither a country of fraudsters nor drug dealers.
Rather, the said, the country is a home to a people who are determined, hardworking, passionate, and excel in what we do as Nigerians
Dabiri-Erewa stated this recently  against the backdrop of Nigerians being portrayed negatively in some instances during her remarks in Akure at the inaugural launching of Akure Primerose Club in Ondo State.
She also commended Nigerians abroad for projecting the good image of the country through their good conduct, describing them as ambassadors of the country.
The NIDCOM boss said though, like any other country, there are a few bad elements, but majority of Nigerians are a pride to the country, as they excel in all areas of human endeavours.
In her words: "One of the biggest problems we have in Nigeria is our image. We are not as bad as we are portrayed and we have to do something about it. Communication is the key. What are we communicating? What are we saying about ourselves to the world? This is very important".
She called on Nigerians to always portray their country positively.
"We are not a country of fraudsters or drug dealers. We are good people. We are determined, hardworking, passionate, and excel in what we do as Nigerians. That is who we are as Nigerians and most importantly that is what you are as Akure indigenes. I look forward to working with you."
She commended the Primrose Club for their initiative of giving back and making a difference in the community they all schooled in, that gave them the foundation to succeed in the diaspora.
"I want to, particularly thank my diaspora brothers. What you are doing is what everybody should be doing. Getting those in the diaspora to come back home and see what they can do to improve the situation of their various communities. I am proud of what you are doing here today and I am happy to be with you for this programme. We are urging others to follow your footsteps and contribute positively to their communities back home ".
According to her "the idea is that we cannot do it alone. If Nigerians at home work with those in the diaspora, we will build a better society. You can imagine what you are doing in Akure here. I want to come back next year to see the impact you have made. I promise to be your number one broadcaster and I will broadcast to the world what you are doing in Ondo state, particularly in Akure", she said.
Speaking in the same vein, the Ondo State Commissioner for Information and Orientation, Mrs Bamidele Ademola Olateju said the state has been working hard to ensure that the country attains its potential.
"In Ondo state, Arakunrin Oluwarotimi Akeredolu is putting a lot into place. We are one of the two states that have a ministry for the diaspora. I was there before, so I know. We are trying to put together a diaspora bond that you can subscribe to. We are trying to build that intersection entity so that there is trust between you and us and whoever is giving service so that you can invest your money sensibly. It is okay to give money to your family but how do you invest in the country of your birth? How do you get returns for your money apart from the money you give to family members? I need you to look at that.
"Presently in Ondo State, we have health insurance. If you have aged parents in Nigeria, you must be rest assured that their health will be catered for by competent hospitals here in Nigeria if you subscribe to that health insurance. We have a ministry of mines and energy, we have those working solar aspect, and we have caregivers who can help to take care of your aged parents here in Ondo State", she stressed.
Also speaking, the State Commissioner for Diaspora and Regional development, Mr Boye Ologbese reeled out several investment opportunities for the diaspora, and urged them to continue to make a difference.
According to the Commissioner, beyond remittances, the diaspora should consider investing in various sectors of the state, particularly tourism and housing.
The President of the Club, Mr Kehinde Olateju said the group of friends of well over 40 years, who all schooled together , and excelled in their various fields abroad , saw the need to give back to the community .
He said they will work with their compatriots at home to impact their state positively.
The Primrose club is made up of a group of Nigerian men in diaspora who schooled in Akure, with the purpose of giving back to Akure in particular, and Ondo state, in general.