ISPs in Nigeria Groaning to Survive as 568 Lay Redundant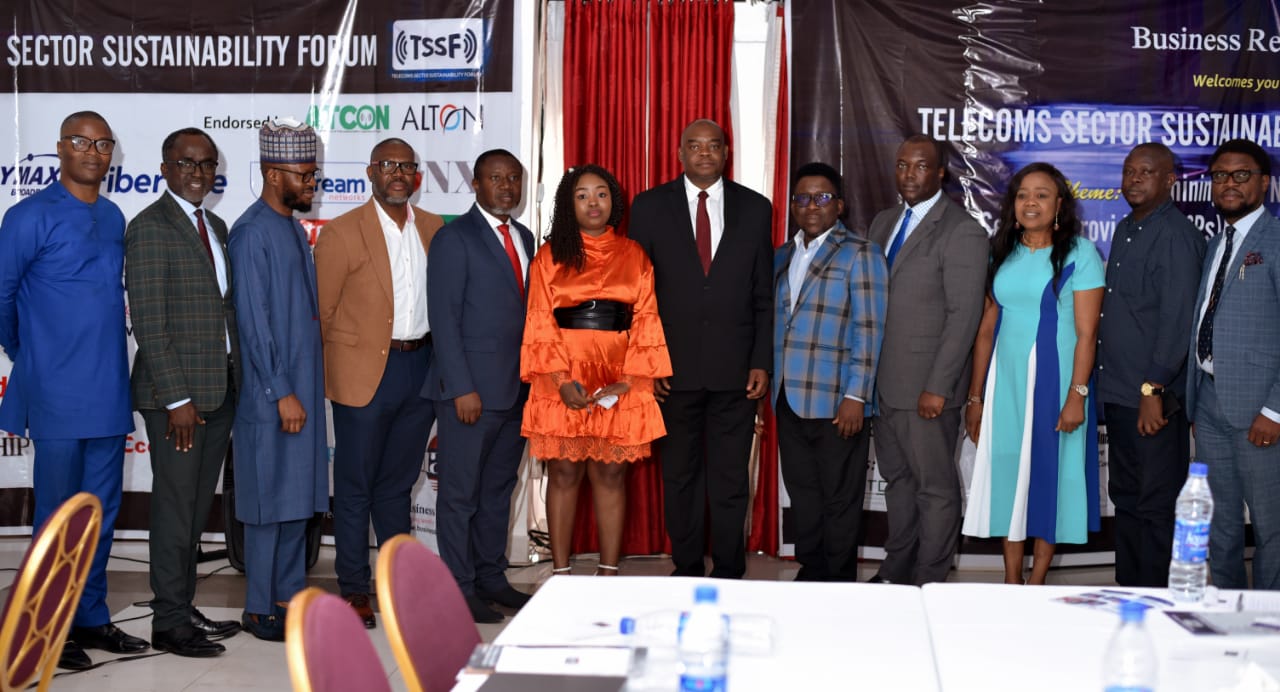 Call for Governmental Support
Task ATCON for More Advocacy 
Harp on Active Collaborations for Sustainability


---
Players in the Nigerian Internet Service Providers (ISPs) industry have lamented difficulties undermining their survivals rendering redundant some 568 operators who obtained licences to operate in the market.
While they shared their challenges at the just held maiden edition of Telecoms Sector Sustainability Forum (TSSF) organised in Lagos by Business Remarks, they called on the regulator, the Nigerian Communications Commission (NCC) for governmental support in form of excellent regulation and policies to save the sub-sector of the telecoms industry.
In addition, the ISP players charged the Association of Telecommunications Companies of Nigeria (ATCON) to do more advocacy on the interests of the ISPs lest the sector collapses just as the Code Division Multiple Access (CDMA) sector.
Expressing his views, the Chief Executive Officer of Dotmac Technologies, Mr Micheal Ayoade tasked ATCON for more advocacy as regards issues militating against their survival and growth in the industry.
According to Ayoade, ISPs are charged a higher rate than others for Right of Way (RoW) in most states.
Using Lagos State as an example, he said Mobile Number Operators (MNOs) pay a cheaper rate compared to ISPs, who are charged ten times more than the agreed N145 per meter rate linear for RoW.
He said ISPs lack unified backup to fight their cause and push for the agreed rate from the state government and taxes demanded by the Federal Inland Revenue Service (FIRS).
Speaking on improving quality of service through laying of fibres and cables, Ayoade emphasized that without ATCON speaking for them in the industry, the cost overhead carried by individual company for survival will eventually lead to their untimely death.
"Collaborations among ISPs is important but not very straightforward because each Internet Service Providers determine their price structure through cost incurred, keeping manpower and other business risks".
On his part, the Managing Director for MangoNet Integrated Technologies, Mr Tony Emoekpere said the ISPs sub-sector is too fragmented to scale up. He berated the fact that ISPs players are close to 1,000 in number with less than 200 still active in the market.
Emoekpere said this shows that indigenous players do not understand the market terrain.
"Local content is a real challenge. The telecommunications business is a long-time investment which requires continuous investment and pressure to upgrade infrastructure.
"You don't have to own all the infrastructures to provide service. In Orlando, there are just three major ISPs. Foreign companies are taking advantage of this market because they understand the value of collaboration with key players and their area of strength".
Also, FiberOne Broadband Head of Sales and Marketing, Mr Kehinde Joda stated that multiple taxations, high cost of RoW, and operating in silos kill small businesses in the ISPs sub-sector.
While charging the umbrella body, ATCON on more advocacy, Joda said the sub-sector lacks necessary support.
He said just as there are different tiers of players in the banking system such that some finance housing and microfinance banks supporting other industries, defined markets should be assigned to ISPs to prevent bigger operators from encroaching on their markets.
Speaking further during the panel session, he said although there is excess capacity landing at the sea shores, there is a need for last-mile internet connectivity in the hinterlands, adding that ISPs are expected to play this role.
He also decried the high cost of fuel, vandalism, activities of street thugs, and mobile network operators' disruption as part of the challenges ISPs face.
"There will be healthy competition, pricing and collaborations if the Nigerian Communications Commission can make the right policies for ISPs sustainability", Joda noted.
Also, eStream Networks CEO, Mr Muyiwa Ogungboye represented by Mr Martins Akingba berated the lack of governmental support for the ISPs sub-sector in the telecommunications industry.
He lamented that the government has not fulfilling its part towards ISPs' sub-sector growth and sustainability. He, therefore, owns the present existence of ISPs to the resilience and ingenuity of businessmen in Nigeria.
In his words, "there is a certain level of investment needed to be made by the government, that was never made. The government have done nothing to sustain this industry. There is no National Network Backbone for the ISPs to build on.
Akingba noted that the National Infrastructure was built by the Mobile Network Operators (MNOs) who are private business owners.
Moreso, the eStream Boss said it is quite unfortunate that the market takes advantage of the sub-sector because it is too fragmented.
"NCC needs to step in for ISPs' growth." He further stressed the struggle with human capital flight and the huge brain drain in the industry as another problem undermining its survival.
He, therefore, urged others to rethink their business models, innovate and become more agile for sustainability and profitability unless they will be forced out of business by the activities of the MNOs.
Akingba further tasked the ISPs to expand into the West African coast, leverage on the opportunities made available to them and also think of sustainability strategies for growth.
WTES Projects Limited Chief Operating Officer (COO), Mr Chidi Ajuzie said the ISPs are struggling because of the regulatory and licensing framework. According to him communities ISPs cannot survive this terrain.
"ISPs in the United States and other countries survive because there is a universal player and universal infrastructure environment in existence. NCC, the government and others concerned need to build a National Uniform Infrastructure".
He urged ISPs players to become more familiar with industry trends and initiatives both locally and globally to sustain their growth.
Ajuzie also harps on collaboration with players who already own infrastructures for efficiency and faster growth.
The Divisional CEO of ipNX, Segun Okuneye stated that the regulator, NCC, needs to watch and support the industry sub-sector to ensure its survival in terms of infrastructures, pricing and creating enabling environment.
"NCC have an obligation to ensure its licensees' survival irrespective of the activities of the MNOs. It is sad that states government are missing it when they focused only on increasing Internally Generated Revenue (IGR) because when they forced the ISPs out of business, unfortunately unemployment increase, taxes unpaid and so many things lost."
Okuneye also advised ISPs to invest wisely and leverage on other backbone to grow and survive.
Equinoxcore Technology CEO, Mr Lanre Olanrewaju lamented the huge decline in turnover, subscriber base, challenges the struggling ISPs face and the ever-changing policies.
In her opening speech, the convener of the Forum and Managing Editor of Business Remarks, Mrs. Bukola Olanrewaju said: "Over the years, studies have shown that the licence renewal rate of ISPs in Nigeria continues to drop, even as others take up the licence. In view of the critical need for internet connectivity for the digital economy and for mass digitalisation of Nigeria, the role of ISPs is central also for uptake of internet of things (IoT)."
"Internet Service Providers in the Nigerian telecommunications industry have been struggling to stay afloat due to challenges confronting their market to remain in business, expand operations and post profit every financial year. In line with the above, findings also showed that most of the ISPs who served the enterprise market lost revenue during the pandemic because their services were cancelled or suspended, despite procuring wholesale capacity," she noted.
The event enjoyed the sponsorship and participation of the Nigerian Communication Commission (NCC), Skymax Integrated Network Limited, IPNX, eStream Networks, WTES Projects Limited, MangoNet Integrated Technologies, FibreOne Broadband, Dotmac Technologies, ICSL, NITDA.