Domestic stocks rebound with N46bn gain to open week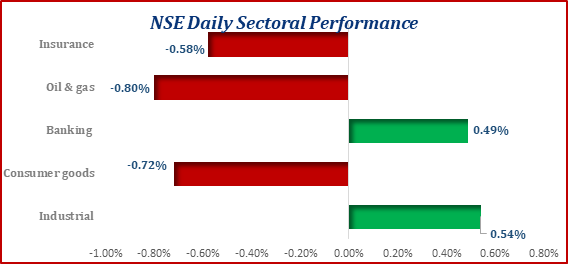 Domestic stocks rebound with N46bn gain to open week
---
The Nigerian equities market opened the week on a positive note as investors position ahead of 2020 full year earnings release.
The benchmark All Share Index (ASI) advanced by 0.21 per cent to close at 41,088.96 basis points with market capitalization gaining N46 billion to settle at  N21.494 trillion. In summary, the   Year-to Date (YtD) performance improves to 2.03 per cent.
The breakdown across different sectors indicates mixed performance as three out of the five major sub-sectors of the market closed southward.
Notably, the Insurance, consumer goods and oil  & gas indices  declined by 0.58 per cent, 0.72 per cent and 0.80 per cent respectively following losses in SOVRENINS (-9.09 per cent), MBENEFIT(-8.89 per cent), INTBREW(-6.53 per cent) and ARDOVA(-9.78 per cent).
On the other hand, the banking and the industrial indices went up by 0.49 per cent and 0.54 per cent on the back of positive sentiments in UBA(+0.57 per cent) and DANGCEM(+0.85 per cent).
Investors' sentiment was however negative as 19 stocks advanced while 30 stocks declined indicating a 0.63x market breadth.
Similarly, market activity level slow down as both volume and value of transaction declined by 43.68 per cent and 47.94 per cent respectively.
On the activity chart, the banking sub-sector dominated in volume terms with 64.12 million shares exchanged in 938 deals. The sub-sector was enhanced by the activities in the shares of Fidelity Bank Plc and Union Bank Plc.
Diversified industries sub-sector boosted by the activities in the shares of Transcorp Plc and UACN Plc followed with 58.18 million units traded in 348 deals.
In all, investors exchanged a total of 333.09 millio shares valued at N2.64 billion and exchanged in 5,640 deals.
Further analysis of the day's trading showed that Academy Press Plc led the gainers with 10 per cent to close at N0.44 per share while May and Baker Plc followed with 9.86 per cent to close at N4.01 per share and MRS Plc with a gain of 9.82 per cent to close at N12.30 per share.
On the flip side, C and I Leasing Plc and Royal Exchange Plc led the losers' chart with a drop of 10 per cent each to close at N5.13 and N0.36 per share respectively.
ARDOVA Plc trailed with a loss of 9.78 per cent to close at N18.45 per share while Japaul Gold Plc dropped by 9.47 per cent to close at N0.86 per share.