CBN appoints General Electric's President to head multibillion InfraCorp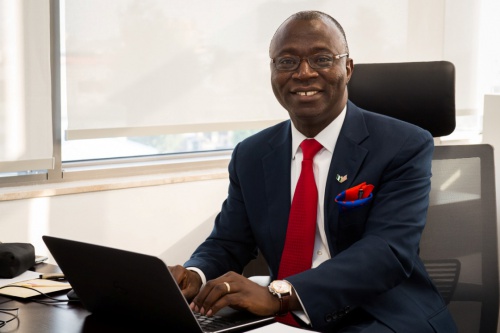 The Central Bank of Nigeria (CBN) has appointed Lazarus Angbazo, the globally well regarded and sought after president of General Electrics (GE) businesses in Nigeria, as pioneer chief executive officer of the multibillion infrastructure company
CBN Governor, Godwin Emefiele, made the announcement over the weekend while signing agreement with some public and private sector partners on the InfraCorp project.
Besides the huge numbers that have been talked about since Governor Emefiele and his team at the CBN began to pursue the setting up of InfraCorp, the enlistment and appointment of Angbazo, a Nigerian-American, is a significant development that put even more seriousness into the whole project.
The new CEO of InfraCo, a thoroughbred industrialist and business leader of the GE hue, was born in 1962 and is president and chief executive officer of General Electric in Nigeria, he is also the chief executive officer of General Electric Grid Solutions Africa.
And before assuming his role in Nigeria, where he is said to have doubled GE's Nigeria revenue by over $1billion, he led GE's regional operations between 2008 and 2012 as president & CEO, West, East & Central Africa.
Those who spoke to him to come on board InfraCorp will be hoping that he would provide his wealth of experience and international connections to steer InfraCo and steady it for the huge tasks it has set for itself.
At the weekend, the Infrastructure Corporation of Nigeria (InfraCorp) met to sign an agreement with some public and private sector partners to raise funds to close the infrastructure deficit in the country, said Governor Emefiele.
The company was launched with an initial seed capital of N1 trillion or $2.5 billion by its three promoters, with the intention to raise three times as much in private capital over the next three years, and up to $37 billion for infrastructure investments in Nigeria's economy by 2030.
"For infrastructure projects originated by the public sector, InfraCorp's goal is to shape projects for private sector financing and management.
"For projects originated by the private sector, InfraCorp will help shape government policy to support and sustain private sector investment," Emefiele said.
The CBN governor said Nigerian firms needed to be assured of the infrastructure that they rely upon, so they can focus successfully on their competencies.
"The deficit may be large; however, with resources from the private sector, targeted incentives from the public sector and the drive of our individual citizens, I strongly believe that Nigeria will be ready, willing and able to deliver the infrastructure that will be the foundation of our development," he said.
He said the signing event marked a major milestone as InfraCorp and the Infrastructure Asset Managers – the AAA Consortium, Chapel Hill Denham, Africa Infrastructure Investment Managers in Nigeria, and Sanlam Infraworks – had concluded the initial discussions on how they would operate together to deliver infrastructure to the nation.
He said InfraCorp is a government-backed infrastructure investment vehicle established and co-owned by the CBN, Africa Finance Corporation (AFC) and Nigeria Sovereign Investment Authority (NSIA), the promoters and managed by its own board and management.
The vehicle, he said, had been established to harness opportunities for infrastructure development in Nigeria by originating, structuring, executing, and managing end-to-end bankable projects, managed by reputable and highly experienced infrastructure asset managers and in partnership with public and private sector participants.
He said InfraCorp would mainly leverage public-private partnerships to unlock assets for the development and completion of projects.
InfraCorp's core mandate is to tackle Nigeria's infrastructure deficit and generate a growth multiplier effect across critical sectors.