Buhari Moves to Render IPOB Financially Stranded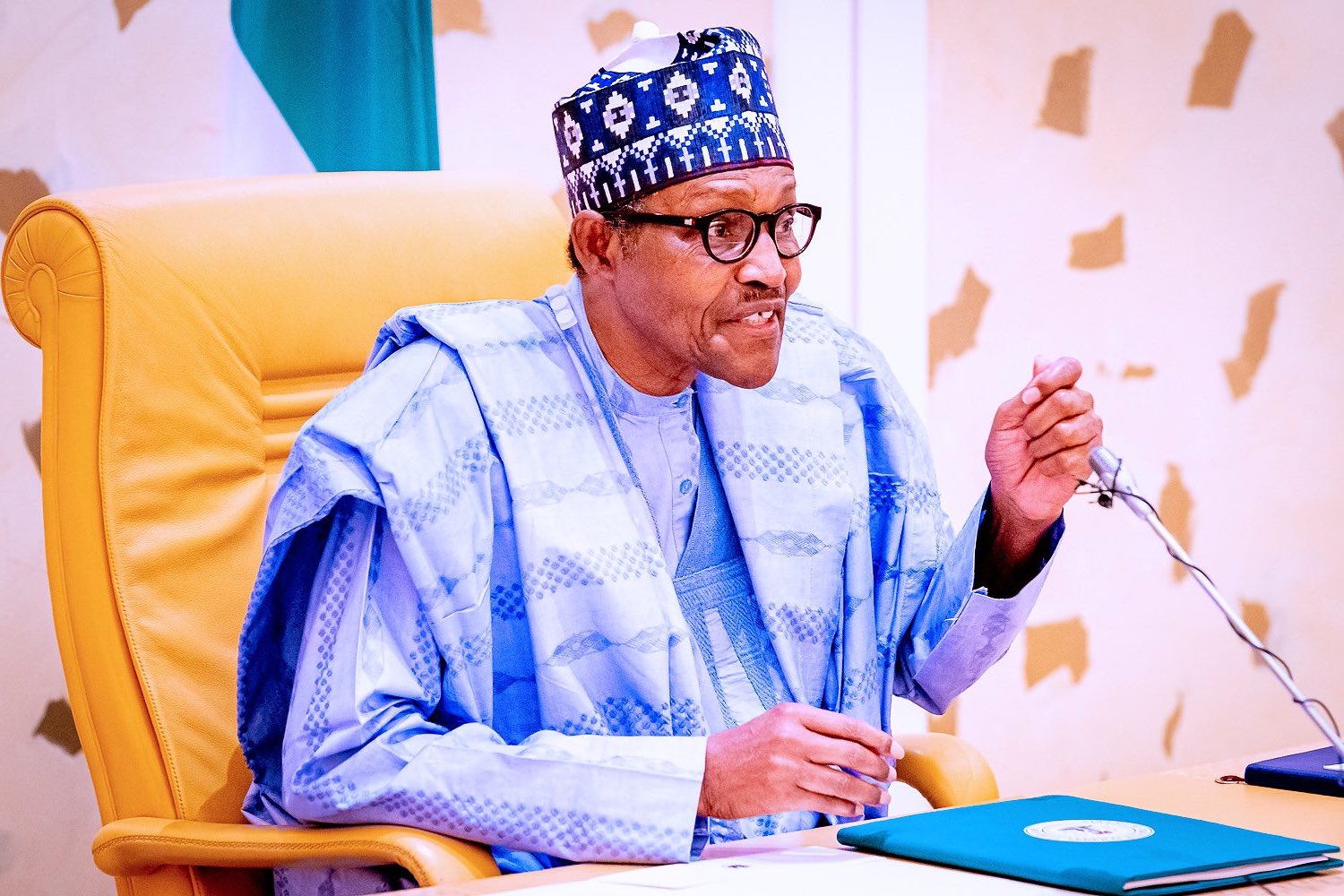 President Muhammadu Buhari has escalated the battle to rein in members of the Independent Peoples of Biafra (IPOB) to the global arena.
He pleaded with Nigeria's international partners, especially the United States (U.S.) and the United Kingdom (UK) to block the group from the international financial network.
In an interview transcript from Bloomberg released yesterday, President Buhari defended the security measures put in place by his administration, saying they have worked well.
He urged the international allies to take additional to proscribe IPOB – as a terrorist organisation.
The President said: "Their leadership enjoys safe haven in the West, broadcasting hate speech into Nigeria from London, spending millions lobbying members of the U.S. Congress and freely using international financial networks to arm agitators on the ground. This must stop.
On the achievement of his administration on security, he said Nigeria is a much better and secured country than inherited in 2015 by his administration took over power.
He said: "We leave Nigeria in a far better place than we found it. Corruption is less hidden for Nigerians feel empowered to report it without fear, while money is returned; terrorists no longer hold any territory in Nigeria, and their leaders are deceased; and vast infrastructure development sets the country on course for sustainable and equitable growth."
Going down the memory lane, President Buhari recalled how Boko Haram terrorists held territory the size of Belgium within the borders of the country.
Buhari said: "Today they are close to extinct as a military force. The leader of ISWAP was eliminated by a Nigerian Airforce airstrike in March.
"The jets acquired from the U.S. and intelligence shared by British were not provided to previous administrations, a stand as testament to renewed trust re-built between Nigeria and our traditional Western allies under my government."
On the herder-farmer conflicts, he said his administration remained the first in history to implement a solution to decades-long crisis, exacerbated by desertification and demographic growth.
"The National Livestock Transformation Plan (NLTP), putting ranching at its core, is the only way to deplete the competition for resources at the core of the clashes. Governors from some individual states have sought to play politics where ranches have been established; but where they have been disputes have dramatically reduced," he said.
Speaking on the state of the economy and infrastructure, President Buhari said Nigeria has been investing heavily in national road, rail, and transport infrastructure set to unleash growth, connect communities, and lessen inequality.
"This is structural transformation. It may not show on standard economic metrics now, but the results will be apparent in good time," he said.
On the fight against corruption, the President said that starting with our Whistleblowing Policy, hundreds of millions in stolen funds have been returned within Nigeria.
"Working with our international partners, hundreds of millions of various currencies have been returned from abroad – primarily from the UK, U.S. and Switzerland – and used as social and welfare funds distributed directly to the poorest during the COVID-19 pandemic and the provision of long-delayed infrastructure-roads, bridges, rail, and power," he said.
As an illustration, Monetary recoveries (January-December) 2021 show that more that N152 billion had been recovered.
He said: "Dollar recoveries for the year amounted to over $386 million; more than £1.1 million Britain pounds; about 157,000 euros; 1.7 million Saudi Riyals and more in digital and other currencies.
"Those partners refused to return these monies held for decades to previous Nigerian administrations in the certainty they would simply be re-stolen. They changed their approach with us because they knew my administration could be trusted."
On food security, he said initiatives such as the Nigeria Anchor Borrower's programme, helping farmers compete against artificially lowered imports has boosted rice production to 9 million metric tonnes in 2021 from around 5.4 million metric tonnes in 2015.
He disclosed that even in the years of drought, rice production outstripped pre-2015 levels. Imports have fallen to near zero adding that Nigeria is making progress.
The President said: "Against these advances international trade remains rigged against food security in Africa. The EU's policies in particular are all rhetoric of open trade – yet their Common Agricultural Policy subsidy programmes and export of those subsidized goods create dependence, undermine Africa's self-sufficiency, and cause food poverty and starvation.
"If only out of enlightened self-interest the West – and particularly Europe – must step up. The moral if not economic case for doing so is unarguable. Do nothing, and more migrants from across the Sahel will attempt dangerous journeys to reach Europe".
On the power sector and electricity supply, President Buhari said Nigeria's legislative framework has been a drag.
He said the landmark Petroleum Industry Act will bolster input, raise capital, and bring transparency to the system. Buhari explained: "On grid modernisation, there are hundreds of ongoing projects and initiatives attracting funding from investors. Take my Presidential Power Initiative (PPI), a government-to-government initiative between the Governments of Nigeria and Germany, with Siemens AG, to upgrade the electricity grid with a $2 billion investment.
"Once signed into law the constitutional amendment bill – recently voted through parliament – will allow state governments to generate and transmit their own electricity, further facilitating investor participation in our market and enabling states and local businesses to transmit excess supply to the grid.
"We are also decentralizing the national grid through renewable driven mini-grids. The $550 million Nigeria Electrification Project (NEP) has deployed more than 20,000 Standalone Solar Systems (SHS), as well as Solar Hybrid mini-grids in over 250 locations."