Picking Atiku as My Vice President was a Genuine Mistake – Obasanjo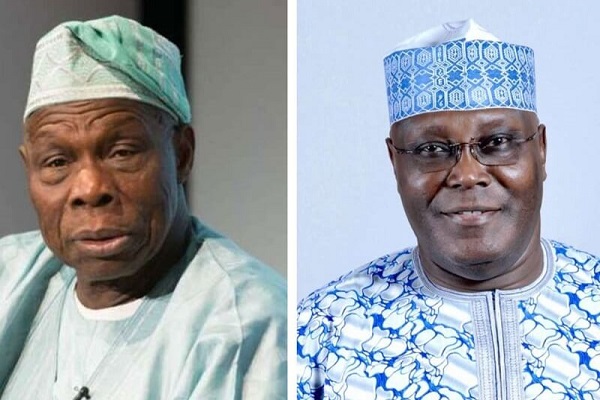 Former President Olusegun Obasanjo on Saturday said he made two mistakes, which included the choice of his 'number two' ahead of the 1999 presidential election.
According to him, the second mistake was his refusal to accept an asylum when he was told that the late Head of State, Sani Abacha, wanted to arrest him, the action, he said, could have led to his death.
The former president who ruled the country upon its return to democracy in 1999 to 2007 had Alhaji Atiku Abubakar  as his vice for his two four-year terms in office.
Obasanjo stated this, while answering questions posed by students from select secondary schools that participated in the finals of the National Exhibition and Awards organised by Students for the Advancement of Global Entrepreneurship.
The event, held at the Olusegun Obasanjo Presidential Library, Abeokuta, Ogun State, featured presentations and exhibitions of some products made by students of the participating schools.
Obasanjo became democratically elected President in 1999 while the presidential candidate of the Peoples Democratic Party in the 2023 elections, Atiku Abubakar, was his vice president.
Obasanjo, who did not mention Atiku in his statement, said it was a mistake he made in good faith, but was saved by God.
The former president spoke on his life and achievements both as a military Head of State and as a civilian President.
The former president, while interacting with the students during a questions and answers session, said he had many mistakes, which he could describe as genuine mistakes in his life but God made him to overcome.
He said, "One of the mistakes I made was picking my number two when I wanted to become the President. But because it was a genuine mistake, God saved me.
"The second one was when Abacha wanted to arrest me. When he wanted to arrest me, I was told by the American ambassador that they would arrest me and that America had asked that I should be given an asylum. I said 'No'. It could have been a mistake because I could have lost my life.
"I will say there are many things that could have been a mistake but God saved me from them all."
While speaking on opportunities for the youths to take over the mantle of leadership in the country, Obasanjo said youths can never come into power, if the current trend continues.
He said with the "Not Too Young to Run campaign, and you can see that those that are contesting now are between 70 and 80 years old, how can the youths run?"
He added, "Another thing inhibiting youth from running is the amount of money involved in going into politics. I hope that things should not continue like this.