New OPPO Reno8 T Series : Features and Prices in Nigeria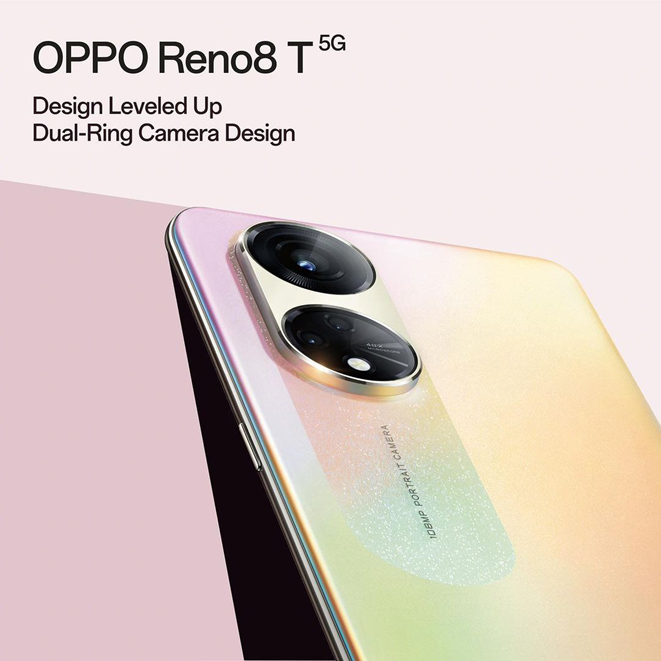 Dubbed "The Portrait Expert, the Reno8 T is available in 5G and 4G variants.
Starting today, customers can pre-order the Reno8 T smartphones for as low as 30,000 Naira, till 25th March 2023.


---
OPPO Nigeria has announced the launch of the highly anticipated Portrait Expert, the Reno8 T Series. The virtual launch event which was streamed live on YouTube, was hosted by sensational host Jimmie Akinsola and featured Nollywood star Bimbo Ademoye and notable industry personalities – popular Tech YouTuber Eric Okafor and fast rising photographer August Udoh. For as low as 30,000 Naira, Customers can now pre-order the smartphones by visiting https://opponigeria.com or any SLOT and other authorized dealer outlets from now till 25th March 2023. Pre-order customers get to purchase at a discounted price and also get a free OPPO Enco Buds2.
With significant upgrades made in its design, camera, charging and performance, the Reno8 T series comes in 5G and 4G variants, and has been designed to bring users one step forward to an unmatched leveled-up experience in innovation and style.
Commenting on the launch, Folashade Omonijo, Marketing Manager for OPPO Nigeria, said, "At OPPO Nigeria, we believe that innovation and style should go hand in hand, and that's what we have delivered with the RENO8 T series. We are excited to launch these devices today and are confident that they will elevate the smartphone experience of our customers, enabling them to level-up with the ever-increasing demands of smartphone usage in their daily activities, be it for work or fun."
"The Reno8 T series is a testament to OPPO Nigeria's commitment to providing our customers with the best technology at the most competitive price-points. Even with such impressive, premium and flagship specifications, our customers wouldn't have to go deep into their pockets to own any of the Reno8 T smartphones. We encourage everyone to visit our website or social media pages to pre-order these devices." She further added.
One Step Forward in Design
Running on the latest ColorOS 13 Operating System, the Reno8 T 5G features a 6.7-inch, 120Hz 3D curved screen – a very rare feature in mid-range smartphones. Cased in a seamless hyperbolic, micro-curved dual design, Reno8 T 5G not only delivers a next-level luxurious visual experience, but it also fits perfectly into the user's hand, creating a natural feel and sleek appearance.
Inspired by luxury leather goods, the Reno8 T 4G on the other hand comes in an Ultra-Slim Retro Design with Fiberglass-Leather back, giving a premium flagship feel. Reno8 T 4G users can also customize based on their preferences and mood, the colours of the popular Orbit Light that provides notifications for new messages, charging status and more, on the back of the phone.
One Step Forward in Camera
Donning OPPO's first 108MP Camera, users get to enjoy an ultra-high resolution portrait camera on the Reno8 T 5G. This enables users the ability to capture every moment, especially portrait photos, with utmost clarity and detail.
The Reno8 T 4G variant dons a 100MP Portrait Camera that produces equally exquisite image clarity that allows for unprecedented editing and cropping abilities.
Both variants also feature the AI Portrait Super Resolution designed to enhance portrait images and give them amazing effects using various features such as the Bokeh Flare, AI Colour, AI portrait retouching and Selfie HDR. The Flash Snapshot feature allows for capturing super-clear photos while the subject is in motion. And thanks to the 40x Microlens, user can get creative with these high-quality photos by cropping and editing them without losing their clarity, discovering new details and previously hidden aspects of the photos taken.
One Step Forward in Battery Charging
Reno8 T 5G features the lightspeed 67W SUPERVOOCTM charging technology that delivers 5.5 hours of call time on a 5-minute charge and enables the 4800mAh battery of the 5G variant to charge fully in just 44 minutes, which means users spend significantly lesser time charging and allowing for more time on the things that matter the most. A Battery Health Engine (BHE) helps to keep the battery at top performance, preserving the lifespan of the phone's battery for up to 4 years by intelligently controlling charging currents and voltage. The 4G variant is powered by a 5000mAh battery on a 33W SUPERVOOCTM charger.
One Step Forward in Fluency, Speed & Performance
5G Processor: The Reno8 T 5G's Qualcomm Snapdragon™ 695 5G processor enables a lightning-fast processing of tasks and 5G speed capabilities, guaranteeing a super-smooth experience during phone usage.
48-Month Fluency Protection: OPPO also guarantees an unparalleled fluency protection for as much as 4 Years of constant use. This means that even after several years of work and play, the Reno8 T smartphones can start, operate, and run as many apps as if brand new.
8GB RAM + 256GB Storage: Memory and storage are very critical to users and the Reno8 T series delivers on that with its 8GB RAM + 256GB Storage configuration. What's more, the RAM expansion feature allows users to double the RAM size on their smartphones by converting unused storage space to operating memory, therefore guaranteeing smoothness and zero-lag when using several apps simultaneously and switching between them.
The Reno8 T 5G is available for pre-order at N289,900.00 and comes in the iconic OPPO Glow shimmering colours – Sunrise Gold and Classic Midnight Black, while customers also get to choose between the Sunset Orange or Midnight Black colours on the Reno8 T 4G variant, starting from N219,900.00. Both devices will be available at authorized retail stores for purchase starting from 26th March 2023.